Contact Farmington Valley Dental
Thomas G Peters, DMD, MAGD
270 Farmington Ave - Suite 329
Farmington, CT 06032
Phone: (860) 677-8500
Office Hours
Monday - Friday: 8 a.m. to 5 p.m.
Early morning hours by appointment only.
We are located in the Exchange Building, directly across from the UCONN Health Center.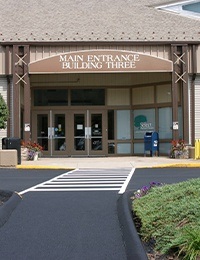 IMPORTANT! To reach our office, you must enter through Building Entrance #3, which is around the back of the building. Here's a picture of that entrance. If you're coming from the front of the building, follow the signs to the offices around the back. If you enter the building through the wrong entrance, you won't even find our name on the listings.
Once you enter through Building Entrance Number Three, take the elevator to the third floor.