Dental Implants in Farmington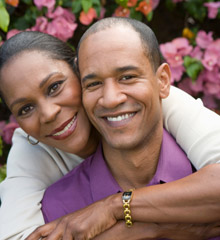 If you have lost permanent teeth, dental implants can offer you a new lease on life. They are solid, secure, and aesthetic. At Farmington Valley Dental, Dr. Thomas Peters and his attentive, experienced staff provide patients from throughout our community achieve lasting oral health through a variety of restorative dentistry services, including dental implants.
How Do Dental Implants Work?
An implant is a surgical grade titanium post that is manufactured to highly precise specifications then surgically inserted into the jawbone below the gum surface. Your procedure will be completed in-office by an experienced board certified specialist. Over time, the bone within the jaw naturally fuses with the biocompatible material, creating a secure foundation for your restoration. This process is called osseointegration, and it occurs over the course of approximately two to six months.
The implant serves as a new root for your replacement tooth. To complete your restoration, a custom crown, bridge, or denture is securely affixed to the implant. These replacement teeth are carefully crafted to mimic the appearance of natural teeth, so you won't ever have to worry that your restoration will look artificial. You'll love your new smile and the freedom you have to eat your favorite foods once again without fear of discomfort or slipping dentures. Smile with confidence with dental implants from Farmington Valley Dental.
Are Dental Implants Right for You?
Implants can help replace a single tooth, multiple teeth, or even a full set of teeth. If you have been suffering with partial or full dentures, are missing teeth, or feel you need teeth extracted, do not hesitate to call to be evaluated for implants. Our team looks forward to talking with you about your restorative dentistry options, providing you with the information you need to make the oral health decision that is best for you.
What's the Cost of Dental Implants?
Dental implants come at a higher price than other options in tooth replacement, but they could not be more worth it. There is not fixed cost of dental implants -- so you will need to schedule a consultation with our office to find out what you can expect to pay. Dr. Peters will consider the health of your jawbone, how many teeth you are missing, and other factors to determine the cost of your dental implants.
Contact us today to schedule your consultation, and see what a difference our caring approach, extensive experience, and state-of-the-art technology can make in your next visit for dental treatment. Our warm, welcoming office proudly serves families from throughout the areas surrounding our Farmington, CT practice, including Hartford, West Hartford, Newington, Wethersfield, New Britain, Bristol, and more.