Veneers in Farmington
From Average to Outstanding in Just a Few Steps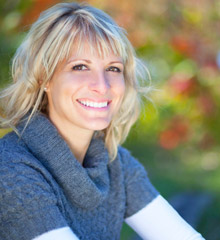 Your smile is capable of speaking volumes about your personality and who you are, but if you tend to hide your teeth due to dental imperfections, the real you may not be shining through. At Farmington Valley Dental, Dr. Thomas Peters and his team specialize in helping men and women just like you achieve and maintain healthy, beautiful smiles with a variety of general, cosmetic, and restorative dentistry solutions. One of the ways we help our patients rediscover confidence in their smiles involves the use of dental veneers.
Benefits of Dental Veneers
Veneers are ultra-thin, custom-fitted sheaths of dental ceramic that are bonded to the front surfaces of your teeth. Meticulously crafted to look and feel like your natural teeth, veneers are capable of correcting a wide variety of common cosmetic flaws, including:
Deep, set-in stains that are resistant to professional teeth whitening treatments
Chips or cracks in enamel
Uneven spacing between teeth
Mild to moderate misalignment or crowding
Gaps between teeth
Teeth that appear too small in relation to surrounding teeth
Misshapen teeth that mar the appearance of an otherwise uniform smile
Most veneers can be applied in two appointments. To maintain your veneers, simply visit our office regularly for scheduled exams and professional cleanings. It's that easy! We can't wait to show you what a dramatic difference our cutting-edge cosmetic dentistry services can make in your smile.
Schedule Your Veneers Consultation
If you desire a brighter, cleaner, more attractive smile, but have chipped, stained, discolored, unevenly spaced, or even slightly crooked front teeth, porcelain veneers or laminates can provide you with a new smile in just a few appointments. We will be glad to evaluate your smile, listen to the exact changes you have in mind, and help you visualize your end result. This may involve a diagnostic model, reviewing photos of similar case outcomes, or using a computer enhancement program to provide you with several options prior to performing the procedure.
Dr. Peters and his caring, experienced team genuinely look forward to helping you achieve the luminous, flawless smile you want and deserve. Contact us today to schedule your cosmetic dentistry consultation, and see for yourself how easy it can be to regain your confidence and your smile with porcelain veneers. Our state-of-the-art dental office in Farmington, CT proudly serves patients from throughout the surrounding communities, including those located in Newington, West Hartford, Hartford, Wethersfield, Bristol, New Britain, and beyond.