Dentures – Farmington, CT
Fast and Affordable Way to Replace Missing Teeth
Replacing missing teeth can not only improve your appearance but also boost your oral and overall health. One popular way to replace missing teeth is with dentures. In fact, according to data from national consumer surveys and the U.S. Census, over 40 million Americans rely on dentures to restore their dental function and improve their appearance. At Farmington Valley Dental, we help men and women in our community restore their smiles and reclaim their confidence with high-quality dentures. If you are tired of living with an incomplete smile, do not hesitate to contact Dr. Thomas Peters to learn more!
Who Is a Good Candidate for Dentures?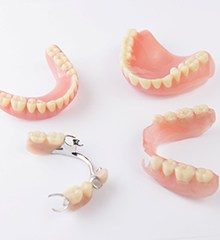 Dentures, essentially artificial teeth attached to a gum-colored plastic base, are a popular and inexpensive tooth replacement solution. If you are missing multiple or even all of your teeth, you are likely a good candidate for dentures. Every person's circumstances are unique, so we encourage you to schedule an initial consultation with Dr. Peters to find out if dentures are the best restorative solution for your smile.
Types of Dentures in Farmington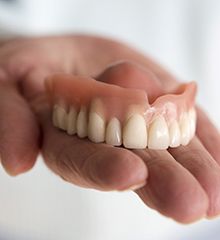 There are several types of dentures patients can choose from, depending on their unique smile needs.
Partial Dentures
Partial dentures restore dental function and appearance by replacing multiple missing teeth. They use small metal clasps to attach to adjacent healthy teeth and remain in place. This type of dental prosthetic helps prevent remaining natural teeth from shifting and is often removable.
Full Dentures
Conventional full dentures can restore an entire upper or lower arch of missing teeth and are held in place through natural suction. Any remaining teeth must first be removed and the gums healed before full dentures can be worn, and they usually take 8 to 12 weeks to make.
Implant-Retained Dentures
Implant-retained dentures provide superior stability by attaching to implants in the jawbone. Just a few strategically-placed implants can support an entire row of replacement teeth. Patients with implant-retained dentures never have to worry about their dentures slipping!
Benefits of Dentures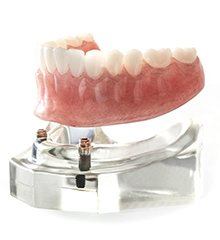 For those who are missing multiple teeth, it can be difficult to get through the day without challenges. Fortunately, dentures are available to help patient chew their food, speak clearly, and smile with confidence once again! Whether you are missing multiple, most of, or all of your teeth, dentures may be the solution for you. Here are some of the life-changing benefits you can experience.
Psychological Benefits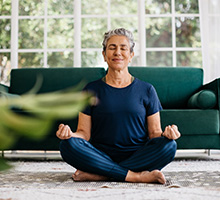 People who no longer have teeth often have difficulty accepting their tooth loss. This can have negative effects on self-esteem and social life, as well as a higher risk of experiencing sadness and depression. People who don't have any teeth are also less likely to engage in social activities. By restoring one's smile with dentures, patients are likely to experience increased confidence and a reduction of anxiety regarding appearance, speech articulation, chewing ability, and more!
Clearer Enunciation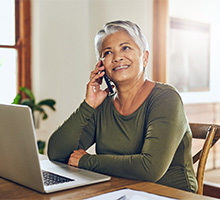 Speaking can become challenging when you don't have teeth. Pronouncing certain words requires your lips and tongue to be positioned properly. Without touching your tongue to your teeth, some words become very difficult to say clearly. Because dentures act as your absent teeth, they can restore your ability to speak clearly. With a little bit of practice, you will be talking just like you used to.
Improves Nutrition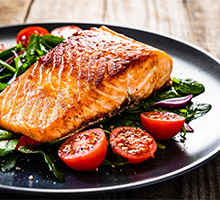 Nutritious foods come in all sorts of different textures. Some vegetables, fruits, and healthy proteins are tough. When you can't chew your food thoroughly due to tooth loss, you can experience indigestion or even malnutrition. By improving your ability to chew, dentures allow for a more expansive diet full of nutritious foods.
Preserves Oral Health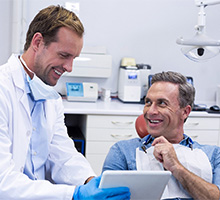 When there are gaps in your smile, your surrounding teeth will move around to fill them in. Dentures can fill in these spaces and prevent misalignment issues from forming. Dentures also bear some of the weight of chewing, reducing the wear and tear of your natural teeth.
Expands Opportunity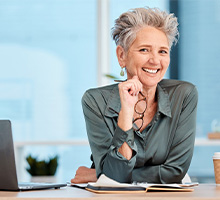 Your smile is one of the very first things that people notice about you, and first impressions matter when it comes to job interviews, sales, and promotions. By restoring the appearance of your smile, you can feel confident about these important events!
Tips for Denture Maintenance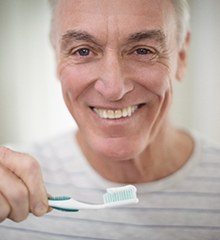 Just like your teeth, dentures in Farmington require proper care to stay clean and avoid stains. Here are a few recommendations to keep your dentures in tip-top shape:
Remove and rinse your dentures after eating to remove food debris and other loose particles.
Brush your dentures at least once a day using a soft-bristled brush and nonabrasive denture cleanser.
Place a towel on the counter or fill the sink with water so your dentures won't break if you accidentally drop them while cleaning.
Soak your dentures overnight using lukewarm water. Never use hot water when cleaning or soaking your dentures, as it may cause warping.
Continue practicing excellent oral hygiene for your remaining natural teeth, including brushing twice a day, flossing daily and visiting a dentist twice a year for a routine checkup.
Cost of Dentures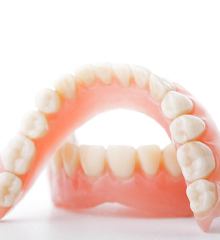 If you're curious about the price of your dentures, the best step to take is to call our office for a consultation. No two smiles are the same, which is why Dr. Peters will need to examine your mouth before developing a personalized treatment plan that includes cost. However, we also want all of our patients to have access to the information they need. That's why we've included some of the most significant variables that impact your denture cost in Farmington. Read on to learn more!
Learn More About the Cost of Dentures
Types of Dentures
We offer different types of dentures based on your pattern of tooth loss. Typically, the more teeth that you're missing, the higher your treatment price will be. If you're missing random teeth throughout your smile, Dr. Peters can custom make a partial denture that fills in the gaps like missing puzzle pieces. If all or most of your smile is lost, a full denture may be recommended to give you a new, complete set of teeth. Lastly, for the most stable and sturdy smile, Dr. Peters can combine dentures with dental implants to create implant-retained dentures. This last option will typically cost more than the others because it involves dental implant surgery.
What are the Stages of Getting Dentures?
After your initial consultation, where you and Dr. Peters will discuss your goals and desired results, we will need to treat any preexisting oral health issues like gum disease. Next, if you have remaining teeth, and you're getting full dentures, we will need to make extractions. After, special impressions and images are taken of your mouth, which are used to create your personalized dentures. Once your prosthetic is made, Dr. Peters will ensure that it fits properly so you can smile and chew with confidence! Keep in mind that implant-dentures require extra steps, including surgery, and a healing process that takes at least 3 to 4 months.
Are Dentures Worth the Investment?
While dentures cost more than minor restorations like fillings, their health and lifestyle benefits make them well worth the investment. Primarily, dentures allow you to eat, speak, and chew confidently, which you may currently struggle to do with missing teeth. They also fill out your face, giving you a slightly more youthful appearance. Another advantage is that we offer different types of dentures, depending on your needs. Full dentures are completely removeable, making them easy to clean and maintain. On the other hand, implant-retained dentures are fixed to the jaw for the most lifelike smile replacement available. No matter which option you choose, you'll enjoy better quality of life!
Does My Dental Insurance Cover Dentures?
Typically, dentures are seen as a major restoration, which means that most insurance providers will cover around 50% of the treatment. However, it's important to understand that this will vary from plan to plan. Our front desk team will do all they can to maximize your dental insurance benefits and minimize your out of pocket spending. We are always happy to file your insurance claims and answer any questions you may have.
Dentures FAQs
Whether you lost your teeth suddenly or gradually, replacing your missing teeth is of the utmost importance in terms of both your appearance and your oral health. No matter how you lost your teeth, we're glad that you're choosing dentures in Farmington to rebuild your smile. That said, you might still have some questions about this method of tooth replacement. Below, we've answered the dentures questions that we get asked the most often here at Farmington Valley Dental. For any further questions, just give us a call and we'll be happy to help!
Learn More About Dentures FAQs
Is It Difficult to Adjust to Wearing a Denture?
It may take a few weeks to get used to wearing a denture, especially if you've never had one before. Your tongue, lips, and other oral structures will consider it a foreign object at first. Here are some tips to help speed up the adjustment process:
Practice speaking or reading aloud while wearing your denture.
Start by eating soft foods.
Gradually integrate solid foods back into your diet as you grow accustomed to your new teeth.
Can I Sleep in My Denture?
Technically, you can, but we highly suggest that you do not. Your gums will need some time to rest after holding the denture in place all day. Plus, you should never let 24 hours pass without cleaning your denture in some way. Nighttime is the perfect chance to let your denture soak in room-temperature water or denture cleanser.
How Often Will I Need to Replace My Denture?
On average, a traditional full or partial denture will need to be replaced every five to seven years. During that time, you'll have to visit us periodically to have your denture adjusted in order to accommodate the ways in which your jaw naturally changes shape after tooth loss.
Because dental implants stimulate the jawbone and prevent these changes from occurring, an implant-retained denture can last significantly longer. While the denture might need to be replaced every decade or so, the implants can last up to a lifetime as long as you keep up with your oral hygiene.
How Much Does It Cost to Get Dentures?
The cost of dentures can vary widely based on a number of factors, such as:
How many teeth you're missing
Whether you need any preparatory work (tooth extractions, gum disease therapy, etc.) beforehand
Whether you're getting dental implants
Your level of insurance coverage
As a result, it's nearly impossible for us to provide you with a cost estimate without your coming in for a consultation first. We can examine your mouth and determine a personalized price range.
Our practice is in-network with several popular dental insurance carriers, including MetLife and Delta Dental. We can also help you develop a low-interest, customized payment plan to help you restore your smile without breaking the bank.