Dentures – Farmington, CT
Fast and Affordable Way to Replace Missing Teeth
Replacing missing teeth can not only improve your appearance but also boost your oral and overall health. One popular way to replace missing teeth is with dentures. In fact, according to data from national consumer surveys and the U.S. Census, over 40 million Americans rely on dentures to restore their dental function and improve their appearance. At Farmington Valley Dental, we help men and women in our community restore their smiles and reclaim their confidence with high-quality dentures. If you are tired of living with an incomplete smile, do not hesitate to contact Dr. Thomas Peters to learn more!
Who Is a Good Candidate for Dentures?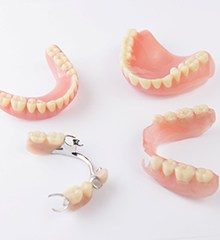 Dentures, essentially artificial teeth attached to a gum-colored plastic base, are a popular and inexpensive tooth replacement solution. If you are missing multiple or even all of your teeth, you are likely a good candidate for dentures. Every person's circumstances are unique, so we encourage you to schedule an initial consultation with Dr. Peters to find out if dentures are the best restorative solution for your smile.
Types of Dentures in Farmington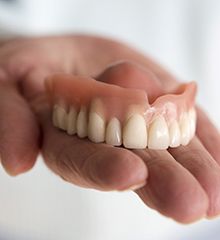 There are several types of dentures patients can choose from, depending on their unique smile needs.
Partial Dentures
Partial dentures restore dental function and appearance by replacing multiple missing teeth. They use small metal clasps to attach to adjacent healthy teeth and remain in place. This type of dental prosthetic helps prevent remaining natural teeth from shifting and is often removable.
Full Dentures
Conventional full dentures can restore an entire upper or lower arch of missing teeth and are held in place through natural suction. Any remaining teeth must first be removed and the gums healed before full dentures can be worn, and they usually take 8 to 12 weeks to make.
Implant-Retained Dentures
Implant-retained dentures provide superior stability by attaching to implants in the jawbone. Just a few strategically-placed implants can support an entire row of replacement teeth. Patients with implant-retained dentures never have to worry about their dentures slipping!
The Benefits of Dentures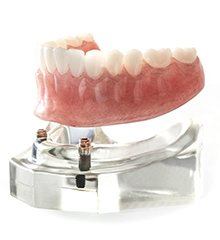 Tens of millions of Americans have used dentures to replace missing teeth thanks to their many benefits, such as:
Restored Dental Function – Dentures are designed to function just like natural teeth and can restore a person's ability to bite, chew and speak normally.
Restored Ability to Eat – Missing teeth can make it difficult to bite or chew certain foods. Dentures restore the ability to eat most of your favorite foods.
Improved Speech – Teeth play an important role in how we form sounds when speaking. Dentures help their wearers enunciate letters and speak without slurring or spitting.
Boost in Appearance – Missing teeth can be embarrassing. Reclaim your smile and confidence with the help of dentures!
Tips for Denture Maintenance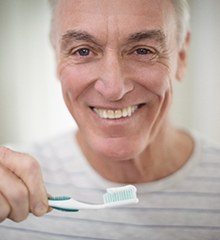 Just like your teeth, dentures in Farmington require proper care to stay clean and avoid stains. Here are a few recommendations to keep your dentures in tip-top shape:
Remove and rinse your dentures after eating to remove food debris and other loose particles.
Brush your dentures at least once a day using a soft-bristled brush and nonabrasive denture cleanser.
Place a towel on the counter or fill the sink with water so your dentures won't break if you accidentally drop them while cleaning.
Soak your dentures overnight using lukewarm water. Never use hot water when cleaning or soaking your dentures, as it may cause warping.
Continue practicing excellent oral hygiene for your remaining natural teeth, including brushing twice a day, flossing daily and visiting a dentist twice a year for a routine checkup.