Snore Guards & Mouthguards for Farmington
Custom Snore Guards and Mouth Guards from Farmington Valley Dental
How important is a good night's sleep to you and your family? Research has shown that a good night's sleep is essential for most people to lead happy and productive lives. If you, or someone close to you, have sleep problems caused by nightly snoring, or nightly teeth grinding, Dr. Peters at Farmington Valley Dental can help. Dr. Peters can fit you for a custom snore guard or mouth guard. These devices are the most effective methods for treating these sleep disorders. Don't let another night go by without getting the treatment you need. For a better night's sleep, make an appointment with Dr. Peters at Farmington Valley Dental today.
Snore Guards Can Eliminate Nightly Snoring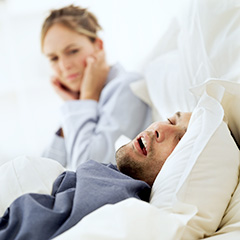 Research has shown that 45% of adult men and 30% of adult women snore regularly throughout the night. If you suffer from snoring, or if you live with someone who snores habitually, you may experience headaches, migraines, fatigue, and concentration problems during the day, because you are unable to get a restful night's sleep. Snoring is caused when your airway is partially restricted as you sleep. When you sleep, your body relaxes, and the muscles and soft tissues in the back of your mouth and throat rub together creating vibrations and noise. If you actually experience stop-start breathing in conjunction with snoring, you may have a potentially serious condition known as sleep apnea. Snoring can also have widespread health implications including hypertension, depression, and cardiac disease. But you can eliminate snoring and get checked for sleep apnea by coming into Farmington Valley Dental to get a custom snore guard today. Snore guards work by preventing the jaw from dropping back into the throat and restricting the air passage. Keeping this air-way open will greatly reduce and in most cases eliminate chronic snoring problems.
Mouth Guards Can Eliminate Nightly Teeth Grinding and Clenching (Bruxism)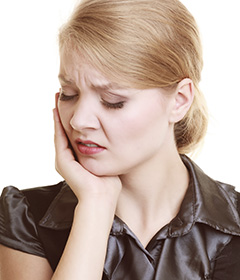 Do you grind your teeth at night? Custom mouth guards, or night guards, can eliminate the effects of nightly teeth grinding (Bruxism). Bruxism can be associated with increasingly shorter or worn teeth, headaches, jaw pain, and an agitated spouse.  If left untreated, grinding can cause temperature sensitivity, pain, cracks in the teeth, receding gums, and eventually tooth loss. If you're experiencing Bruxism symptoms you can make an appointment with Dr. Peters to get a custom fitted mouth guard to eliminate the pain and discomfort, and prevent any more damage to your teeth. Mouth guards can reduce the pressure on your teeth caused by grinding and eliminate the subsequent symptoms.
Snore Guards and Mouth Guards in Farmington, CT
Dr. Peters can take impressions of your teeth so that a dental lab can make a custom fitted snore guard or mouth guard that is an exact match to your mouth. Make an appointment with Dr. Peters at Farmington Valley Dental today, to get the peaceful night's sleep you and your family need. Dr. Peters proudly serves families throughout Farmington, CT, West Hartford, Newington, New Britain, and Plainville.