FAQs about Dental Implants in Farmington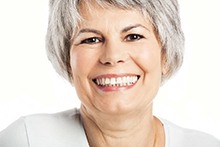 When living with tooth loss, your confidence and quality of life are lost along with it. Now, you feel insecure about your appearance while also finding it difficult to chew and speak. To regain a complete smile, you may have tried traditional methods, like a dental bridge or dentures; however, they did not give you the results you had wanted. Now, you are considering dental implants in Farmington. Before you make your final decision, you have several questions about the procedure. Farmington Valley Dental has the answers you need!
How are Dental Implants Different?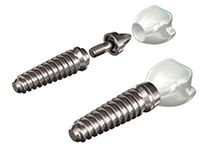 Dental implants are far different than any other type of tooth replacement because it involves the use of a dental implant post, which is surgically placed into the jawbone. This replaces the root while also providing a secure foundation for the prosthetic tooth, so you never have to worry about slipping, irritation, or discomfort.
How Long Do Dental Implants Last?
Dental implants stimulate new bone growth, allowing the jawbone to fuse to the post. As a result, they offer a 95% 10-year success rate. With the right aftercare, the implant post can potentially last for a lifetime. To promote its longevity, it is best to maintain your oral hygiene and regular appointments with your dentist in Farmington. While the post can last forever, your dental crown will suffer from daily wear and tear. On average, it will need to be replaced about every 10 years.
Do Dental Implants Feel Natural?
With the use of the dental implant post, your smile will closely look and feel natural as they are securely held in place. In fact, when compared to traditional dentures, dental implants offer an increased biting force of over 70%.
How Much Do Dental Implants Cost?
There is no set price for the procedure because it varies from person to person. There are several factors that influence the cost, such as how many teeth need to be replaced, if additional procedures are needed, and your insurance coverage. While you can expect to pay more upfront, they offer a long-term invest and will be more cost effective in the future because you do not need special cleaning products, adjustments, or new prosthetics made every few years.
Can Dental Implants Stop Bone Recession?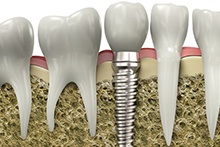 Dental implants are the only form of tooth replacement that stops bone recession from missing teeth. The implant post stimulates the jawbone, encouraging new bone growth. This helps to preserve your bone density to protect any remaining natural teeth and your facial structures.
Where Can I Get Dental Implants?
If you are ready to see if you are a candidate for dental implants, Farmington Valley Dental can help. Dr. Thomas Peters will perform a comprehensive examination to see if they are the right option for you. With a carefully crafted treatment plan, he will help you regain a complete smile with a predictable and reliable solution.
Complete Your Smile Today
Start your journey to a complete smile. Contact Farmington Valley Dental today to schedule your consultation.