August 4, 2015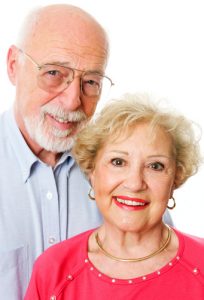 Missing teeth challenge how a person looks, speaks and eats. Left untreated, empty tooth sockets quickly lead to jaw bone recession. Dental implants and fixed bridgework are 2 common tooth replacement options offered by Thomas G. Peters DMD MAGD at Farmington Valley Dental.
When accident, periodontal disease or extensive decay cause tooth loss, immediate replacement is important to retain normal speaking, chewing and aesthetics. Plus, the human body naturally resorbs jaw bone vacated by missing teeth.  Less bone impacts the strength of surrounding teeth and also the overall facial structure.

Alternatives to missing teeth: dental bridges and implants
The American Academy of Implant Dentistry says that fixed bridgework has been the traditional tooth replacement choice for decades. Supported by neighboring teeth, bridgework is cost-effective, looks natural and helps individuals bite, chew and speak normally.
Bridgework replaces one or more teeth.  Surrounding teeth anchor the artificial teeth in a couple of ways:
by crowns (This involves grinding down healthy tooth structure so the anchoring teeth can receive the caps.)
by resin bonding to neighboring teeth (also called a Maryland bridge)
While this option is cost-effective at the outset, patients should understand that bridgework does deteriorate over time and will have to be replaced. Also, bridgework does nothing to exercise the jaw bone beneath the artificial teeth. Hence, bone recession occurs.
Currently, the state of the art choice for tooth replacement is the dental implant. Made up of a titanium screw surgically placed right into the jaw where the natural tooth formerly resided, the dental implant also has an above the gumline post or abutment and customized porcelain crown.
Like fixed bridgework, the dental implant is an in-office procedure, but it involves more dental appointments spaced weeks apart to allow for healing. The implant device provides an incredibly secure anchor for the prosthetic tooth because the titanium metal and bone blend together in a process called osseointegration. Unlike bridgework, implants strengthen bone and encourage its growth. When the crowns are placed, patients report their new teeth look, feel and act as though they were natural teeth.
Dental implants in Farmington and across the United States cost more than dental bridges at the outset. However, dental implants last for decades and  likely never need replacement. Plus, they contribute to the health and well-being of neighboring teeth as place holders, stopping the alignment shifts and connective tissue weakening that occurs with natural teeth next to an empty socket.
The choice is between you and your Farmington dental implant and bridge dentist
Dr. Thomas G. Peters at Farmington Valley Dental will walk you through your tooth replacement options, discussing costs, aesthetics, durability and other issues pertinent to your oral health and smile. If you have lost a tooth, don't delay. Contact Dr. Peters at his office to arrange for a consultation.
Comments Off

on Farmington dental implants and bridges replace missing teeth
No Comments
No comments yet.
RSS feed for comments on this post.
Sorry, the comment form is closed at this time.