September 1, 2015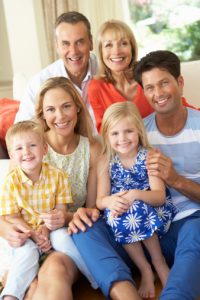 Ah, the modern family. Other than mom and dad, sister and brother, today's families may include grandma and grandpa, a single aunt, and even that elderly gentleman who "lives" next door, but is really part of your family. Thus, the age range of family members might stretch from one to 92. So, whether the baby has a new tooth or grandma needs a new tooth, you must have a dentist who can look after everyone's oral health. The family dentist Farmington, CT, turns to for everyone's excellent dental care is Dr. Thomas Peters at Farmington Valley Dental.

Dr. Peters and his team want you and your family to benefit from a lifetime of good oral health and happy smiles. With this in mind, we provide a comprehensive offering of family, restorative and cosmetic dentistry treatments. No matter the age of the patient or the procedure required, you'll find everything you need in one convenient dental practice.
Children's Dentistry
Your children's smiles are very special, and they need the same care and attention as adult smiles. Yes, those baby, or primary, teeth will someday fall out, but in the meantime they allow your child to eat, speak and of course smile. Keeping these teeth healthy is important now and in future, because early oral health care sets your child on the road to a lifetime of good dental habits.
One of those good habits is a dental checkup. Dr. Peters would like to begin seeing your child twice a year for checkups when they're about two or three years old. Depending on their readiness, we will clean and examine their teeth. As with an adult checkup, we look for early signs of tooth decay and even gum disease, because these can develop in young children. Thus, a regular routine of good at-home oral hygiene should be established from the time that first little tooth arrives.
Our other children's dentistry treatments include digital x-rays, athletic mouthguards, tooth-colored fillings and nitrous oxide sedation.
Senior Dentistry
At the other end of the age spectrum, Farmington Valley Dental offers procedures that can help the older members of your family maintain their smiles. As people age, they are more likely to experience tooth loss. For tooth replacement, Dr. Peters offers dentures and partials, crown and bridge, or dental implants.
Although gum disease is more common among the elderly—proper oral hygiene may become more difficult because of compromised manual dexterity—it can develop at any age. In this case, we offer periodontal therapy. To treat this bacterial infection, we use a process called scaling and root planing. Scaling removes plaque and tartar from above and below the gum line, and root planing smooths tooth roots, so plaque is less likely to accumulate.
Call Our Office Today
If anyone in your modern family needs to see the dentist Farmington, CT, trusts for all of its dental care needs, contact the office of Farmington Valley Dental. Dr. Peters and his staff are happy to serve patients from West Hartford, New Britain, Bristol, Hartford and beyond.
Comments Off

on Dental Health for All Ages with your Farmington Family Dentist
No Comments
No comments yet.
RSS feed for comments on this post.
Sorry, the comment form is closed at this time.