September 10, 2016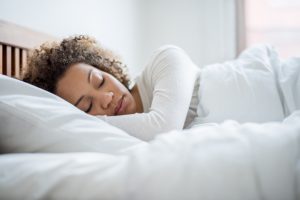 You're resting peacefully when someone starts a chainsaw right next to your ear. You're startled awake to see your partner has slid over to your side of the bed and has started snoring. Ah yes, you think to yourself, the normal nightly serenade. A quick shove rectifies the situation…for about 20 minutes. This really has to stop. You can't keep getting woken up by your partner every night, and they aren't exactly enjoying the cold shoulder you end up giving them in the morning. Snoring is a common problem for many people, and one of the easiest ways to address it is with a snore guard in Farmington from Farmington Valley Dental.
How Snoring Affects You
Snoring at the very least can be annoying to those around you. At its worst it can indicate a serious sleep disorder. Whenever you go to sleep, whether it is laying down or sitting up, the muscles in your throat and mouth relax. Sometimes these can end up obstructing your airway. As air passes by, this causes the tissue to vibrate, which creates the iconic snoring sound. While it might seem harmless, snoring usually means a person is nothing getting the most restful sleep they can. This is because the body is having to work extra hard to get the air it needs. Many chronic snorers can get 8 hours of sleep and still feel tired. A lack of restful sleep can affect all aspects of someone's life, causing headaches, fatigue, and limiting focus. For some, their airway can repeatedly become blocked during the night, causing a condition called sleep apnea. This condition can not only limit sleep, but has been shown to lead to diseases such as diabetes and heart disease.
How a Snore Guard Can Help
There are a few options for someone who snores. The most involved entails surgery that removes a portion of the soft tissue that obstructs the airway. Sleep apnea patients are often prescribed a CPAP machine, which continually pumps air into a patient to ensure they can breathe normally. Both of these solutions are very invasive and not guaranteed to work. One of the easiest solutions is for a patient to use a snore guard or mouth guard. These devices are like a customized mouthpiece you would wear while playing sports. You would wear it every night to bed to prevent you from snoring. It accomplishes this by gently shifting your jaw forward, allowing the airway to naturally stay open. Each snore guard and mouth guard in Farmington is custom made to fit each individual patient. They are quick, easy to use, and don't force a patient to change their sleeping habits. Mouth guards are even able to help address nighttime teeth grinding, or bruxism. Nearly 95% of patients who regularly wear their snore guard or mouth guard enjoy a higher quality of sleep.
Is a Snore Guard Right For Me?
A quick exam by Dr. Thomas G. Peters will determine if a snore guard is the best solution for you. He might suggest that you participate in sleep study if you show signs of sleep apnea. You or your partner don't have to suffer through snoring anymore, so make an appointment with us today so you can sleep easy.
Comments Off

on Sleep Soundly with a Snore Guard in Farmington
No Comments
No comments yet.
RSS feed for comments on this post.
Sorry, the comment form is closed at this time.