November 19, 2016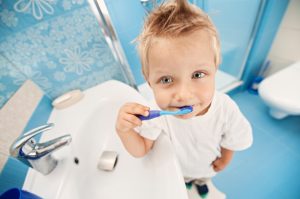 When it comes to dental care, your family deserves the best. However, finding the best dentist for each member in your family can be a challenge. At various ages and stages in life, everyone in your family will have different needs. This can make things a bit difficult. However, by choosing a family dentist in Farmington, all your family's dental needs will be met under one roof. Your entire family will benefit from superior care from one caring and trusted dental practice.

Benefit from Family Dentistry
When raising a family, your schedule is busy enough. With a family dentist, you will save time by having all your family's dental needs met from one caring dentist. Your entire family will get to know and trust one dentist over the years. This allows us to build a positive relationship with your family while we provide a higher level of care by understanding your family's individual and genetic oral health needs.
You can schedule all your family's appointments in one office, so there is no need to juggle multiple dental practices. In addition, all your family's dental records will be kept at one location for added convenience.
Care for Patients of All Ages
With a great family dentist, everyone in the family can benefit from the same high-quality care under one roof. A family dentist treats patients of all ages, so there is no need to schedule appointments at various offices.
We provide children's dentistry services to care for the youngest of members in your family. In addition to preventive appointments, we will work to ensure children develop and maintain healthy smiles for a positive foundation to lifelong oral health.
In addition to young children, we also cater to teens, adults, and the older members in your family. As a family dentist, we offer restorative procedures, periodontal therapy, and tooth replacement options to meet the needs of your entire family—no matter their unique oral health requirements.
Beautiful Smiles for a Lifetime
A family dentist provides all the services your family needs through all stages of life to maintain the health and beauty of your family's smiles. In addition to family dentistry, we also provide various cosmetic services to ensure your family's smiles stay beautiful.
Using the latest advancements in dentistry, we provide tooth-colored restorations so repairs blend in seamlessly with natural teeth. For those in your family who may require a bit more care, we offer porcelain veneers, teeth whitening, and much more to develop confident, beautiful smiles.
Your Dentist for Quality Care
At Farmington Valley Dental, we are committed to providing all patients high-quality, comfortable care. We will treat your family as our own as we get to know all our patients. We provide comfortable and comprehensive services needed through all stages of life to ensure your family maintains healthy, beautiful smiles.
If you are ready to simplify dental care while benefiting from the best, choose a family dentist. Contact our office today to schedule an appointment with Dr. Thomas Peters.
Comments Off

on Benefit from a Family Dentist in Farmington
No Comments
No comments yet.
RSS feed for comments on this post.
Sorry, the comment form is closed at this time.