February 9, 2017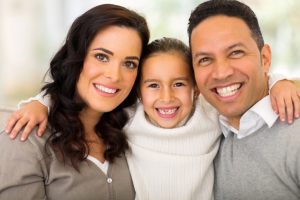 Wouldn't it be great to find a dental provider who could take care of your entire family? It would certainly be more convenient for you, and perhaps less intimidating for your children. If you're looking to find a family dentist in Farmington, look no further than Farmington Valley Dental where Dr. Thomas G. Peters has spent over 20 years providing patients in CT with outstanding dental care. Here are some of the comprehensive services you can expect to find when you work with Dr. Peters.
Children's Dentistry
We welcome children to Farmington Valley Dental and we understand how critical these first visits are for their future success at the dental office. Dr. Peters likes to see children around their first birthday for their first dental visits to help acclimate them to our office and begin to monitor their oral health. As your child gets older, we offer additional services that will help to build and protect their teeth such as fluoride treatments and dental sealants.
Preventative Care
Dr. Peters believes that prevention is the key to maintaining optimum oral health. When you visit us every six months for your cleanings and checkups, we can help you successfully avoid many issues such as tooth decay, gum disease, and oral cancer. With so much information linking your periodontal health to your overall health, it's never been more important to take charge of your oral health, and Farmington Valley Dental can help.
Dental Implants
For patients struggling with failing or missing teeth, Dr. Peters is proud to offer comprehensive implant dentistry, which means we can guide you through the entire procedure here at our office from start to finish. Implant surgery is completed by an in-office board certified specialist, and Dr. Peters will customize your restoration. Dental implants offer a safe and reliable solution for one or more missing teeth that also protects the integrity of your oral health.
Cosmetic Dentistry
A beautiful smile gives you confidence, and with confidence you can achieve great things! Cosmetic dentistry offers so many options for improving one's teeth, and Dr. Peters has had thousands of hours of advanced training in the field. If you've considered changing the appearance of your teeth, it's time you schedule a consultation with Dr. Peters, your dentist in Farmington, to discuss your goals. You might be surprised at the options available to you!
Contact Farmington Valley Dental
We look forward to meeting your family and building a long-term relationship with each member. Give us a call today to schedule your next appointment.
Comments Off

on Find a Family Dentist in Farmington
No Comments
No comments yet.
RSS feed for comments on this post.
Sorry, the comment form is closed at this time.