March 12, 2017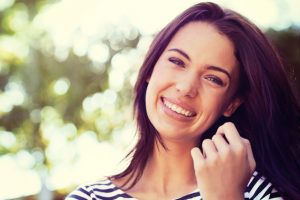 You're ready for that next promotion! The only thing holding you back is the fact that you're stressed about giving that big presentation in front of the new clients. You always worry about someone noticing that your teeth are stained and chipped. Did you know that veneers in Farmington might be the solution you've been looking for? Porcelain veneers can deliver a smile that will boost your confidence and get you to the next level in your career, and Farmington Valley Dental can help!
What are Porcelain Veneers?
Dental veneers are thin layers of porcelain that are designed to fit over your tooth. Dr. Peters will customize your veneers to your facial tone and structure so they will complement and boost your smile. Veneers are ideal for repairing a number of dental issues such as:
Stains and discoloration
Small chips and fractures
Misshapen teeth
Gaps and spacing between teeth
Misaligned teeth
Size discrepancies
While veneers can repair one or two teeth, they're really ideal for improving your entire smile. In fact, many of the Hollywood smiles we admire have been enhanced with veneers, such as Hilary Duff. Veneers are capable of delivering a smile that you can be proud of for years to come.
What are the Benefits of Porcelain Veneers?
Veneers are bonded directly to your tooth, so this makes them very durable. They're easy to brush and floss like you normally would, which means they're simple to care for. They offer great longevity, and in fact with excellent home care and regular dental checkups they can potentially last for 10-15 years.
Veneers can typically be completed after two appointments. At your first appointment we'll prepare your teeth for your veneers and give you temporary ones to wear while your final restorations are being fabricated at the dental laboratory. Dr. Peters works with only the top dental labs in Farmington to ensure that you receive the highest quality restorations available. After 1-2 weeks you'll return to our office to have your final restorations permanently placed.
Contact Dr. Peters
If you'd like to learn more about upgrading your smile with porcelain veneers, the first place to start is a consultation with Dr. Peters. He'll discuss your goals and desires for your smile with you and determine if veneers are right for you. Cosmetic dentistry offers many options for restoring your teeth, and you may be surprised to learn that you have treatment options to choose from.
Contact our office today to schedule your consultation!
Comments Off

on The Benefits of Veneers in Farmington
No Comments
No comments yet.
RSS feed for comments on this post.
Sorry, the comment form is closed at this time.