July 15, 2017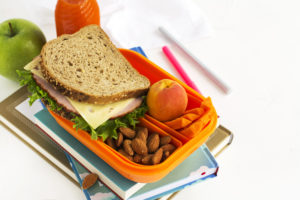 Preparing healthy, balanced meals for your family can be exhausting. Sometimes, it's all too easy to throw a few sugary snacks into your child's lunch box and call it good. Unfortunately, not giving much thought to what you feed your child for their midday meal can eventually lead to devastating consequences for their health. It can also play a big role in tooth decay. To help keep your child's smile happy and healthy, your family dentist in Farmington is eager to share some tips for putting together tooth-friendly lunches.
Include Calcium
As long as your child isn't lactose intolerant, you should make sure they get about three servings of dairy per day. These foods have calcium, which is a smile's best friend. You can serve them yogurt, cottage cheese, or even string cheese. These are great alternatives to foods like apple sauce, which contains sugars that stick to teeth and can contribute to tooth decay.
If dairy isn't an option for your little one, opt for other foods that are rich in calcium. Many green vegetables, including broccoli and bok choy, contain calcium. You could also use dairy alternatives like soy.
Choose Whole Grain Bread
The sandwich is a classic lunch staple, but the type of bread you choose can make the difference between a healthy lunch and one that can damage teeth. Whole grain carbs have less sugar than their counterparts, which means they are less likely to lead to tooth decay.
It might take a while for your child to learn to love whole grain bread if they're used to white, but making the transition will be worth listening to a few complaints. Make the sandwich as yummy as possible by adding in foods that you know your child likes. Peanut butter and banana is a popular combination that lots of kids love.
Be Generous With Protein
Protein-rich foods are usually low in sugar, and they help to fill your child up — which means your little one will be less likely to crave sugary foods that can harm their teeth. Natural peanut butter, without added sugar, is a good source of protein that kids flock to, or you can give them grilled chicken breast or other lean meats.
Know What Foods to Avoid
Some foods that might seem good for your kids actually aren't. For example, fruit snacks commonly have a high sugar content. If you send these to school with your child for lunch and they can't brush their teeth afterward, that sugar is going to cling to their teeth all day. Also avoid fruit jellies, candy, cookies, and other sweet treats.
Preparing healthy, teeth-friendly lunches for your kids isn't complicated if you keep a few simple principles from your dentist in Farmington in mind.
About the Author
Dr. Peters and the rest of the team at Farmington Valley Dental have the experience and knowledge necessary to provide top-notch dental care for your entire family. Whether it's time for your child's twice-yearly tooth cleaning or you have other concerns about oral health, don't hesitate to contact the office at 860-677-8500.
Comments Off

on Your Family Dentist Shares Lunch Ideas to Keep Your Child Smiling
No Comments
No comments yet.
RSS feed for comments on this post.
Sorry, the comment form is closed at this time.