September 19, 2017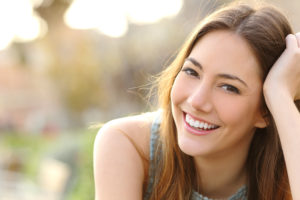 When you smile at yourself in the mirror or see pictures of yourself, what do you think? Are you proud of your appearance, or you bothered by your small teeth and gummy smile? If you wish your smile was a little different than what it is, head to your cosmetic dentist to discuss your options. You might decide that porcelain veneers in Farmington are the right option for you.
What Veneers Can Do for You
Porcelain veneers are a popular cosmetic dentistry treatment because they can totally transform a smile. They're thin pieces of porcelain that your dentist in Farmington attaches to the fronts of your teeth. They can disguise all sorts of flaws, including discoloration, chips and cracks, and minor misalignment.
You might be most interested in the fact that veneers can make your teeth appear larger. This is especially important for people whose gums and teeth aren't in proportion to one another. If more than two or three millimeters of your gums show when you smile, you have what is considered a "gummy smile." This can look odd and take away from your appearance.
However, veneers may not be able to fix a gummy smile on their own. You might first need to undergo a procedure known as a gum lift or a gingivectomy, which repositions your gum line to better showcase your pearly whites.
Achieving the Smile of Your Dreams
If you're interested in a smile makeover, your first step is to visit your cosmetic dentist in Farmington. Discuss what you'd like to achieve with your teeth and gums, and your dental care provider will talk about your choices with you.
If you opt for porcelain veneers and your teeth are healthy enough to support them, you'll have your new look after just a couple of visits to your dentist. During your first visit, your dental care provider will remove a thin layer of enamel from your teeth so the veneers fit with your smile line. You'll wear a temporary cover to protect your pearly whites while your custom veneers are being made. After your second visit, you'll walk away with a whole new look!
What Else Should You Know About Porcelain Veneers?
Porcelain veneers can be a huge confidence booster, and they offer plenty of perks. Here are a few more facts you should know about these gorgeous tooth covers:
If you care for them well, they can last for a decade or longer. You'll just need to be careful to avoid any activities that could crack or stain them.
You can brush and floss them like you would regular teeth. Make sure you use a non-abrasive toothpaste so you don't accidentally scratch them.
You should visit your dentist at least twice a year so they can examine the veneers and recommend any needed repairs or replacements.
Small teeth and a gummy smile can hold your smile back from its full potential, but porcelain veneers can give you the dazzling look you've always dreamed of.
About the Dentist
Dr. Thomas G. Peters leads the team at Farmington Valley Dental. He provides cosmetic services, including porcelain veneers, to help his patients achieve beautiful smiles. If you have questions about how your teeth and gums can look better, contact our office at 860-677-8500.
Comments Off

on How Can Porcelain Veneers Fix My Small Teeth?
No Comments
No comments yet.
RSS feed for comments on this post.
Sorry, the comment form is closed at this time.