November 30, 2017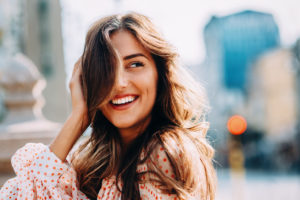 If you have missing teeth, one of the best investments you can make is replacing them with dental implants in Farmington. Missing teeth can already be embarrassing depending where they are in your smile and those empty spots can also wreak havoc on the rest of your natural teeth.
If you're ready to invest in your oral health, get the most out of your dental implants with the help of this week's blog post about dental implant maintenance.
If you want your dental implants to last as a permanent solution, you must work to maintain their strength, cleanliness, and stability. Regular dental appointments are essential, but to avoid complications, you must practice excellent dental care at home.
1.     Keep Brushing and Flossing as Normal.
The great thing about dental implants is that they really do mimic your natural teeth. You need to maintain them just as your permanent teeth by brushing twice a day and flossing. It can be difficult to floss and clean under fixed implant dentures and bridges, but your dentist will show you how to properly clean them by periodically removing them.
2.     It's Okay to Use More Tools.
Between brushing your teeth, you can use intradermal brushes to help with flossing. Because the surfaces of your dental implants can be easily scratched, your dentist may recommend soft-picks because they have soft, rubber tips. Another helpful tool to have on hand is an oral irrigator. This device essentially flosses teeth with water to clean in and around teeth with implants. Plus, water picks work to fight bleeding gums, inflammation, and gingivitis.
3.     Rinse with Mouthwash.
Mouthwash, especially antimicrobial washes, help remove bacteria in the mouth. Mouthwash also decreases gum inflammation when used twice a day alongside your brushing and flossing habits. Rinsing with mouthwash is particularly helpful when you have a dental implant that is in a hard to reach area like the back of your mouth.
4.     Snack with Your Health in Mind.
Dental implants are a great restorative option because they help rebuild a healthy jaw bone. In order to maintain your jaws health and longevity, it is important that you keep it strong with lots of vitamins and nutrients. Be sure to include foods that are rich in calcium, vitamin D, and Vitamin C into your diet.
Dental implants can be a life-changing solution if you take care of them! Be sure to follow these helpful tips and ask your local dentist if they have any sound advice about maintenance after you receive your implants.
---
About Our Office
Here at Farmington Valley Dental, we know how important it is to have every tooth in your smile. It not only helps your oral health and confidence, but it also keeps your overall health in good standing. As your trusted dental team, we want to help you achieve and maintain optimal oral health. Feel free to ask us how dental implants can help you complete your smile again!
Comments Off

on Wow, Dental Implants in Farmington Are Easy to Maintain!
No Comments
No comments yet.
RSS feed for comments on this post.
Sorry, the comment form is closed at this time.