January 7, 2018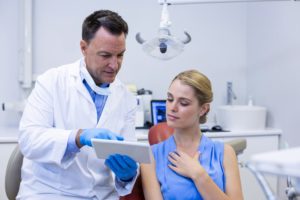 Pop quiz! What is the best way to replace missing teeth? Is it with dentures? Implants? A bridge? If you answered implants, great job! These sturdy tooth replacements offer some significant advantages over other options. However, they might not be a fitting solution for everybody. That's why it's important to find out if you are a good candidate for dental implants in Farmington. If all of the following are true of you, then it's very possible that this life-changing procedure is right for you.
You Have Good Oral and Overall Health
Your implant dentist will ask you lots of questions about your oral and overall health to determine if your body would do well during and after the surgery. Things are looking up for you if you:
Have good bone density in your jaw. Your jaw needs to be strong enough to support the implants for a lifetime. If your bone is a little weak or thin, a bone graft might be able to help.
Have good oral health. Gum disease can affect how you heal after surgery and increase the risk of infections, so if your gums aren't in the best shape, you might need periodontal treatment before you can get implants.
Don't smoke. While many people who smoke still get implants, it's important to note that this habit dramatically increases the chances of implant failure.
Don't have any conditions that compromise your immune system. Health issues like HIV and diabetes make it more difficult for your body to heal after surgery.
You Are Patient
The dental implant process can take a few months to a year. Much of that time is allotted for your implants to bond with your body in a process known as osseointegration. That enables the implants to act like natural tooth roots; they'll keep your jaw strong, prevent bone loss, and give your teeth an extremely strong base.
The time you spend waiting for your new smile will be more than worth it. However, you'll still need to be patient and be diligent about following your oral surgeon's instructions for caring for your mouth during the osseointegration process.
You Want to The Best Value for Your Money
It's true that dental implants present the largest upfront cost of all the tooth replacement methods. However, when you consider what implants offer, you may decide that they are the best value for your money. Some of their most outstanding benefits that we haven't discussed yet include:
Longevity. Other tooth replacement options eventually need to be replaced themselves. Implants can last a lifetime.
Flexibility. Whether you need to replace one tooth, several teeth, or all of your chompers, implants are a good option.
Protection for your natural teeth. Unlike a bridge, implants don't require that your dentist files down adjacent teeth.
So, are you a good candidate for dental implants? The only way to find out for sure is to talk to your dentist in Farmington.
About the Dentist
Dr. Thomas Peters is your skilled dentist in Farmington. He wants his patients to enjoy full, beautiful smiles, which is why he would be happy to help you discover if implants are right for you. If you would like to learn more about this procedure or anything else related to your oral health, please contact us at 860-677-8500.
Comments Off

on Am I a Good Candidate for Dental Implants in Farmington?
No Comments
No comments yet.
RSS feed for comments on this post.
Sorry, the comment form is closed at this time.