June 17, 2018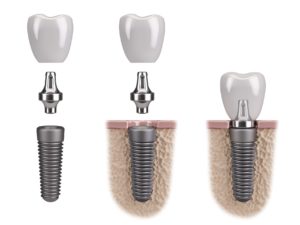 If you are missing one or more teeth, you have heard about the benefits that dental implants in Farmington can offer. Now, they are the most predictable and reliable option to replace missing teeth. In fact, they provide over a 95% success rate, which is why more than 500,000 are placed every year. Their success largely relies on the materials used to make them. Due to several advancements and improvements over the years, they closely look and feel natural, making them the next best thing to your real teeth.

Implant Post
The foundation of the success of dental implants relies on the implant post, which your dentist in Farmington will surgically place into your jawbone. It acts as a new tooth root while anchoring the replacement tooth.
The long-term success of the post involves the use of titanium, which is biocompatible. Not only is it strong and durable, but it is also biocompatible. Your body will naturally accept it as it stimulates your jawbone to encourage new bone growth. This allows it to fuse with your bone while also stopping bone loss.
Some posts are now coated with hydroxyapatite, which has been shown effective for aiding the fusion process between the post and the bone.
Abutment
The abutment is a connector piece between the post and the crown. It is placed after the jawbone has healed. They can be made from metal or zirconium-oxide, or a combination of both.
While metal abutments were commonly used in the past, they are dark in color. Now, they are typically used in the back of the mouth where they are less visible while zirconium-oxide is used in the front because it is tooth-colored.
Crown
To fill the empty space of a missing tooth, a custom-made dental crown is used. Now, they are made from all-ceramic material because it allows them to look natural. Porcelain tends to be the preferred choice because it closely looks like a real tooth. It can be customized to meet your exact size, shape, and color needs to blend in with any remaining natural teeth. Not to mention, it is strong and durable.
While the implant post and abutment hold the potential to last for a lifetime, the crown will suffer from daily wear and tear. About every 10 years, you will need to have it replaced.
Complete Your Smile Today
As new improvements to the materials used for dental implants continue to promote the success of the procedure, you can rest assured that you are making an excellent decision when replacing your missing teeth. No matter if you are missing one, several, or all your teeth, dental implants can help you regain a complete smile.
About Dr. Thomas G. Peters
Dr. Thomas G. Peters is your Farmington dentist who is supported by extensive dental training, including more than 400 hours of continued education. Due to his exceptional qualifications, he provides his patients with advanced solutions, including dental implants. If you are ready to treat your tooth loss, contact Farmington Valley Dental today to schedule your consultation for a complete smile.
Comments Off

on What Materials are Used to Make Dental Implants in Farmington?
No Comments
No comments yet.
RSS feed for comments on this post.
Sorry, the comment form is closed at this time.