September 4, 2018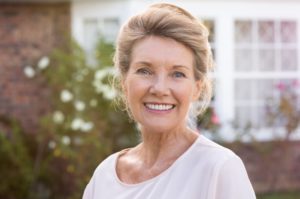 In the early days of replacing teeth, patients only had one real solution, especially when their case of tooth loss was particularly extensive. Partial and full dentures helped them rebuild their smile and improve their diet, but it's no longer the only option available in dentistry today. Now, more complex dental devices like dental implants in Farmington can replace teeth all the way down to the root.
With this in mind, how do you decide which option is right for you?
The Benefits of Dentures
Both full and partial dentures are typically made with acrylic bases and porcelain teeth in order to create the most natural-looking dental device possible. The fabrication process takes about four weeks to complete, often times leaving you without teeth until then. Of course, this is a relatively quick turnaround time compared to dental implants.
Furthermore, dentures have always been considered the cheapest option for replacing teeth. Those considering a full set of dentures, which includes top and bottom arches, can expect to pay between $1,000 and $3,000. Partial dentures can average between $700 and $1,800 for a full set as well. The price can vary depending on the quality, materials used and appearance, but overall you'll get a quicker and more affordable solution.
The Benefits of Dental Implants
When it comes to tooth replacement, dental implants are truly the gold standard. Unlike any other solution on the market, dental implants are designed to replace the root of teeth, not just the visible crown. By acting as a prosthetic root, the titanium implant post integrates with the existing jawbone. This stimulates the bone and prevents it from shrinking over time. The stronger your jawbone, the better your biting force. Most people with dental implants can't even tell the difference between implants and their natural teeth.
Of course, with improved tooth replacements comes higher costs. On average, dental implants can cost anywhere from $1,500 to $3,000 per implant and that doesn't even include the restoration or other procedures that may be medically necessary. They also require surgery and anywhere from three to six months of healing before a crown can be placed on top. It's truly a commitment that will take much longer to complete.
How to Choose the Option for You
The option you choose will truly depend on your needs. Keep in mind that dentures can technically be customized to fit with dental implants, which helps reduce the pitfalls often associated with dentures. In the end, the option you choose will depend on your price point, the number of teeth you need to replace, and the level of maintenance you wish to perform.
Dentures require more maintenance to clean, they need to be replaced every several years, and even then they don't provide you with the fullest biting force possible. In comparison, dental implants are much more expensive, require oral surgery, and many months of healing and appointments to ensure success.
Before you make a decision, always talk with a dentist to confirm your current oral health and get their professional opinion. Both implants and dentures in Farmington can save your smile, but how you do it is unique to everyone. Schedule an appointment today to get started!
About the Author
Dr. Thomas G. Peters earned his DMD degree from the University of Connecticut School of Dental Medicine. To learn more about his practice and the process of receiving dental implants, contact him through his website.
Comments Off

on How Dentures and Dental Implants in Farmington Get Your Smile Back
No Comments
No comments yet.
RSS feed for comments on this post.
Sorry, the comment form is closed at this time.