March 4, 2019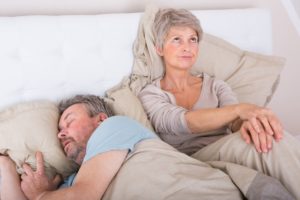 Is it common for you to get an adequate amount of sleep (7-8 hours a night), yet still feel sluggish the next day? This could be a warning sign of sleep apnea in Farmington, and it definitely shouldn't be ignored. As part of National Sleep Awareness Week, dentists are highlighting the importance of getting the rest your body needs by receiving treatment for sleep apnea. Read on to find out about the help available for you!
What is Sleep Apnea?
Sleep apnea is the recurring break in breathing that happens several times throughout the night. As an internal protection mechanism, the brain sends a distress message that causes the person to wake-up so he or she can start breathing.
After sometimes hundreds of episodes of broken rest, the person is left feeling lethargic the next day. Here are some other symptoms to be on the lookout for:
Lost libido
Depression
Bed-wetting
Mood swings
Inability to focus
Morning headaches
What Causes Sleep Apnea?
The greater percentage of sleep apnea cases are the result of a partial airway blockage, which is referred to as obstructive sleep apnea (OSA). A common trait of restricted airflow is loud and frequent snoring.
There are usually two main culprits of OSA – the tongue falling to the back of the mouth and partially blocking the throat, or substantial neck girth.
Why It's Important to Seek Treatment
It's critical that OSA be treated because it has been found to be linked to such conditions as obesity, hypertension, heart disease and stroke. At different levels, each of these issues can be life-threatening.
Therefore, it's worth taking the time to reach out to your doctor to have a sleep test coordinated. Then, if you are diagnosed with sleep apnea, you can contact a qualified dentist to receive the therapy you need.
An Effective Way of Treating Sleep Apnea
A convenient yet effective way to treat OSA is with a custom-designed snore guard. Its small design makes it ultra-convenient and allows patients to have a peaceful night of sleep.
The appliance helps to keep the airway open by preventing the jaw from dropping. Then, by addressing this problem, the device also eliminates the majority of any abrasive snoring.
Thus, in addition to giving your overall health a boost, you'll also make your spouse or partner a happier person. As mentioned above, if you suspect you are suffering from sleep apnea, you shouldn't hesitate to reach out to your physician so you can undergo a sleep test.
Then, contact your dentist in Farmington to schedule a consultation. The expert care you receive will help you finally rest at ease!
About the Author
Dr. Thomas J. Peters is a graduate of the University of Connecticut School of Dental Medicine. A passionate professional, he has remained eager to learn more throughout his career, which has led him to be awarded the Mastership status in the Academy of General Dentistry. Dr. Peters' dedication to excellence allows him to provide a dental care experience that is unmatched. He practices at Farmington Valley Dental, and he can be reached for more information through his website.
Comments Off

on Feeling Tired and Lethargic? You May Have Sleep Apnea in Farmington
No Comments
No comments yet.
RSS feed for comments on this post.
Sorry, the comment form is closed at this time.