May 21, 2019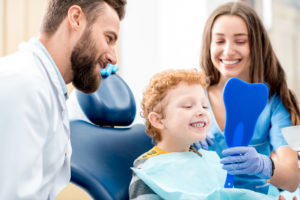 Finally, it's summer! Your kids can't wait for the big family vacation, or to go to the water park, or even to just spend the days relaxing and enjoying the time off from school. Before any of that, though, you may want to take advantage of the break to schedule an appointment with your family dentist in Farmington. Your kids may not be happy about giving up a day of vacation, but regular dental checkups and cleanings are incredibly important—and that's especially true for children.
How Important Is It for My Child to See the Dentist?
One of the most common chronic health problems for children in the United States is tooth decay, or cavities. According to the CDC, over 40% of children suffer from tooth decay by the time they enter kindergarten; the good news is that such decay can be prevented through regular dental checkups and good brushing habits.
You might not think it's a big deal if your child gets a cavity in their baby teeth since they'll be replaced, but the truth is that decay in these temporary teeth can have a negative impact on permanent teeth. Keeping all of your child's teeth healthy is important for long-term dental health; teaching good dental habits and providing thorough dental care early on creates a better chance for a lifetime of oral health.
How Can the Dentist Help My Child Stay Healthy?
Your dentist can help protect your child's oral health by:
• Providing thorough cleanings and exams to get rid of plaque buildup and lessen the chance of tooth decay.
• Using digital X-rays to accurately identify potential problems.
• Offering helpful advice for taking care of your child's teeth at home and what can be improved.
• Making sure their teeth are developing normally.
Of course, seeing the dentist is only one good step; it's also important to practice good oral hygiene at home by helping your child with brushing and flossing, as well as making sure they're not eating too many sugary foods.
When Should My Child Begin Seeing a Dentist?
It's generally recommended that your child have a regular dentist by age 1. The earlier they begin seeing a dentist, the better chance there is of preventing tooth decay and other potential oral health problems. This summer would especially be a good time to begin seeing the dentist if your child is planning on playing any sports; you can ask your dentist about getting mouthguards for protection at their checkup.
If you've been putting off your child's dental visits because of school, now's the perfect opportunity to make up for lost time. Seeing a dentist early in life can help set children on the path towards excellent oral health and a beautiful, long-lasting smile.
About the Author
Dr. Thomas G. Peters is committed to providing patients with outstanding quality care. He has a background in family dentistry and has taken multiple courses to learn about techniques and technology used in all disciplines of dentistry. He emphasizes the importance of seeing a dentist twice a year and has experience working with patients with a phobia of dental care. To schedule a summer checkup for your child, you can contact his practice, Farmington Valley Dental, through their website or by calling (860) 677-8500.
Comments Off

on Start Your Kid's Summer at Your Family Dentist in Farmington
No Comments
No comments yet.
RSS feed for comments on this post.
Sorry, the comment form is closed at this time.