July 15, 2019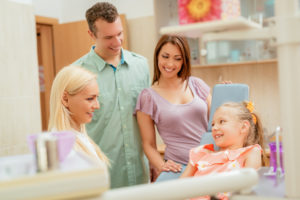 Finding the right family dentist in Farmington is a big task, but you don't have to do it alone. While you may have some specific traits in mind, there are some universal attributes that a good dentist should have. In this post, you'll learn how to narrow your options by looking for the top 5 qualities of a family dentist.
Top 5 Qualities of a Family Dentist
Keep the following traits in mind when choosing your new family dentist. However, make sure to always trust your instinct and put your family's comfort first.
Highly Qualified
A dentist with many years of experience in the dental field is more likely to be able to attend to your family's every need. See which school your prospective dentist attended and learn if they received any awards or honors both during and after their education. Check to see if they've completed any continuing education courses. A dentist who stays at the forefront of their profession can best suit your family's evolving needs.
Variety of Services
It's important to choose a dentist who offers a multitude of services to meet the needs of each member of your family. Review the offered services on their website and see if they can address the special needs of both children and the elderly (if applicable to your family). The option to have every dental procedure completed in one office can be extremely convenient for a busy family.
Positive Reviews
It never hurts to ask family, friends and coworkers (specifically those with their own families) for a referral. Local family blogs, forums and social media pages can also have helpful recommendations. Checking a practitioner's online reviews may also be useful. Pay close attention to testimonials from patients who received the same services that you are interested in.
Location and Hours
Make sure that the dental office is in a convenient location from your family's home, work and/or school. Review the office's hours and see if they offer extended or weekend hours. It's important to ensure that a dentist will allow parallel appointments to make scheduling easy for your entire family.
Personality
If a dentist is perfectly qualified for your family's needs but doesn't feel like the right fit for you, don't feel hesitant to choose a different practitioner. This extends to the office staff as well, who should be friendly and helpful. It's important to choose a place where your entire family can feel safe and at ease.
Thorough research is necessary when buying a new family van or considering a move. Your choice in a family dentist should be just as important. Farmington family dentist Dr. Thomas Peters would be happy to treat your entire family under one roof.
About the Author
A native of Farmington, Dr. Thomas Peters is trained specifically in family dentistry. He has been voted the Top Dentist of Hartford County for 5 years in a row. If you have further questions about your family's dental health, he can be reached through his website or at 860-677-8500.
Comments Off

on What You Should Look for in a Family Dentist in Farmington
No Comments
No comments yet.
RSS feed for comments on this post.
Sorry, the comment form is closed at this time.