August 6, 2019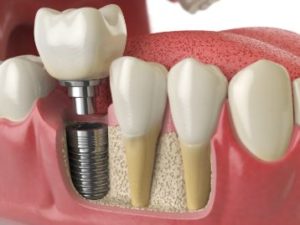 In a perfect world, everything you purchased with your hard-earned money would last forever. While nearly everything needs to be replaced at some point, dental implants just might be an exception! If you've experienced tooth loss and have been wondering if dental implants are worth the investment, keep reading below to find out. You'll also get some helpful tips for how to keep your implants in great shape as long as possible.
What Is the Lifespan of Dental Implants?
Implants are titanium posts placed in the jaw to replace the roots of missing teeth. They're completed with a dental crown, bridge or a denture. Implants themselves can 30 years or even a lifetime depending on factors like:
Whether you smoke or not (the implant success rate for smokers is only 85%, but it's over 95% for non-smokers)
Your oral hygiene habits
Whether the techniques and materials used were good quality
The training and experience of the dentist who performs your implant surgery
Chronic clenching and grinding without a nightguard
And while an implant can last several decades, the crown, bridge, or denture is just like normal dental work and will most likely need to be replaced before then.
How Can You Help Your Implants Last?
Here are some easy ways to help your dental implants last long-term:
Maintain good oral hygiene – Implants can't get cavities, but they can get a type of gum disease that leads to failure. To prevent this, brush at least twice a day and floss once (ask a dentist or hygienist to show you the right flossing technique around an implant, which is a bit different than for natural teeth). Also, many people do well with special tools such as an electric toothbrush or an oral irrigator to flush out plaque and bacteria under the gumline.
Ask a dentist about their qualifications – It's a good idea to ask about a dentist's experience, training and choice of materials as well as read online reviews from other patients.
Schedule regular checkups – With regular checkups, any issues will be caught and treated early on before they progress. Also, be sure to call your dentist right away for an evaluation if your implant feels loose or you notice tenderness or bleeding around it.
Quit smoking – Talk to your dentist or doctor about smoking cessation or how you can lessen nicotine withdrawal.
Wear a nightguard as needed – A custom-made nightguard will prevent the force from clenching and grinding from making your implants loose.
Fortunately, it's relatively rare for implants to fail. And with these guidelines, your chances will be even lower!
About the Author
Dr. Thomas Peters is an award-winning dentist with decades of experience. In addition to providing outstanding patient care in his private practice, he's also a clinical instructor at The University of Connecticut School of Dental Medicine. If you have any additional questions about whether dental implants are worth the investment, he can be reached via his website.
Comments Off

on Are Dental Implants Worth the Investment and How Long Do They Last?
No Comments
No comments yet.
RSS feed for comments on this post.
Sorry, the comment form is closed at this time.