March 28, 2020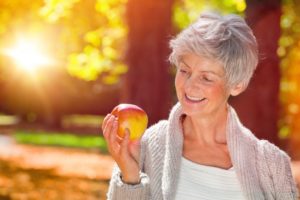 Your new dentures in Farmington are an excellent way to replace your missing teeth and get back to enjoying your complete smile. These custom-made dental applications can quickly and effectively rebuild your pearly whites, but they do take a little time to get used to. At first, you may find eating with your dentures somewhat difficult or confusing. Here are seven easy tips to keep in mind as you learn how to navigate your daily diet with your new teeth.
Tip #1: Start with Soft Foods
Eating hard, crunchy, or chewy foods right away may cause soreness in your gums. Give them time to adjust to your dentures by eating soft foods like pudding, apple sauce, and mashed potatoes at first.
Tip #2: Chew on Both Sides
Many people tend to chew with one side of their mouth more than the other, but this could cause your dentures to slip out of place. As you're eating, make the deliberate decision to chew evenly on both sides of your mouth. In no time, this new habit will be second nature.
Tip #3: Be Careful with Hot Foods
When wearing dentures, it's more difficult to tell how hot foods and drinks are. To keep from accidentally burning your tongue, take small bites or sips of your meal to test the temperature.
Tip #4: Don't Mind the Extra Saliva
You'll most likely start to produce more saliva with your new dentures. This is a natural side effect that should subside on its own. If it's bothering you, try sucking on a piece of hard, sugar-free candy.
Tip #5: Eat Smaller Pieces of Food
Taking smaller bites of food or cutting it into smaller pieces puts less pressure on your gums, which will help them continue to adjust. As an added bonus, this will also make it easier to digest your meal!
Tip #6: Drink Plenty of Water
Your dentures will accumulate plaque and bacteria throughout the day just like natural teeth. Drinking plenty of water throughout the day will help wash away unwanted particles and keep your smile clean.
Tip #7: Remember a Little Soreness is Normal
While dentures can restore your appearance right away, you will need a few days or weeks to completely adjust to them. As your mouth gets used to this new dental device, it's completely normal to experience some discomfort in your gums or jaw. Be patient with yourself as you adapt to your new teeth and remember that the soreness should fade quickly. If you're still uncomfortable after several weeks, you should see your Farmington dentist for adjustments.
As you begin to learn to eat with your new dentures, keep these easy tips in mind. With a little practice, you'll be enjoying your meals without a second thought in no time!
About the Author
At Farmington Valley Dental in Farmington, CT, we understand just how much your smile impacts your daily life. That's why Dr. Thomas Peters is dedicated to providing high quality care and a variety of services to makes sure your beautiful, healthy smile is always at its best. If you have missing teeth, he'd be happy to help you choose between options like dentures and dental implants and create a personalized treatment plan with you. If you'd like to learn more, he can be contacted at his website or at (860) 677-8500.
Comments Off

on 7 Tips for Getting Used to Eating with Your New Dentures
No Comments
No comments yet.
RSS feed for comments on this post.
Sorry, the comment form is closed at this time.