April 18, 2020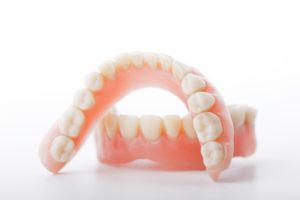 If you have experienced significant tooth loss in one or both arches, your dentures allow you to smile confidently and enjoy your favorite foods. While they are made of durable materials, they aren't indestructible. Not to mention, your denture will experience daily wear and tear, making it more prone to damage as time passes. Although there's never a good time for your denture to break, if it happens during the COVID-19 pandemic, you might think you need to go without your teeth until the crisis ends; however, this isn't true. Here are some tips to use at home until you see your dentist.

What Do I Do If My Denture Breaks?
If your denture breaks, you might want to try to fix them on your own to avoid going anywhere while you practice social distancing. Although you have good intentions, you might damage your denture beyond repair. Instead, it's best to call your dentist and use the following tips at home until your appointment:
Gather any pieces that have broken off and bring them with you to your appointment. This includes any wiring, like what's used on a partial denture.
If your denture has any metal clasps, they can cause irritation to the inside of your cheeks or gums. Use a dental wax to provide a temporary protective barrier until you can see your dentist.
If your denture has a sharp or protruding piece, take them out and soak them in a denture solution because you shouldn't wear them. Don't forget to bring them with you to your dentist.
Although there are over-the-counter denture repair kits, it's always best to see your dentist to have it fixed correctly. In addition, don't use any glues. Over-the-counter gules contain many chemicals that can harm your health.
Can I Wait to See My Dentist?
We live in unusual times as we try to combat the spread of COVID-19. This means many dental offices are closed. As a result, you might think your dentist isn't available to help, but they can still provide emergency services. Believe it or not, a broken denture classifies as a problem that requires immediate attention. Your dentist can get you into the office quickly to restore your smile. Don't worry, they will follow the American Dental Association's and Centers for Disease Control and Prevention's guidelines to ensure your safety.
Restore Your Smile Today
If your denture is damaged, don't wait to see your dentist. They can repair or replace your denture to reinstate a beautiful, functional smile.
About Dr. Thomas G. Peters
Dr. Thomas G. Peters is committed to providing exceptional dental care. He takes many hours of continuing education each year to provide advanced services. Dr. Peters has the experience and qualifications to treat complex issues, like tooth loss. No matter if you're ready to replace your missing teeth or you have a dental emergency, he's here to help. Contact our office today for an appointment.
Comments Off

on What Do I Do If My Dentures Break?
No Comments
No comments yet.
RSS feed for comments on this post.
Sorry, the comment form is closed at this time.