May 28, 2020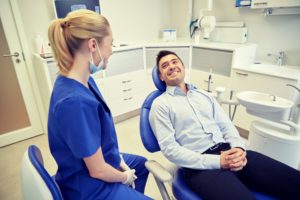 From going grocery shopping to seeing loved ones, the COVID-19 pandemic has changed so much about our daily lives. Appointments with your Farmington dentist are no exception. In March, the American Dental Association recommended that all practices only treat emergency patients through April 30. Now that that date has passed, some dentists are starting to reopen for other procedures like fillings and cleanings. Rest assured that your dentist is taking extreme precautions to ensure the safety of all their patients. Here's what you can expect at your appointment.
Before Your Appointment
To help make sure all patients who enter the office are safe and healthy, the staff from your dentist's office should ask you some questions about your recent health before your appointment. They might do this over the phone, or once you arrive at the office.
Your dentist's staff may also ask you to limit the number of people you bring with you. This could mean leaving your children at home. Doing so will keep the number of people in the office to an absolute minimum, thus preventing the spread of germs.
At Your Appointment
When you arrive at the office, you might be asked to wait in your car until the dentist is ready for you. This will prevent germs from accumulating in the waiting room. You might also have your temperature taken.
Inside the office, you should see that things look a little different. Magazines and toys have likely been removed from the waiting room since those are objects that people frequently touch. The office might also have hand sanitizer set out for you to use. Additionally, you may be advised to swish an antimicrobial rinse in your mouth to minimize germs.
You should notice that your dentist and their staff also look different. They're going to be wearing additional personal protective equipment (PPE) like shoe coverings, double masks, face shields, and surgical gowns. Extra PPE like this help protect both you and your dentist from pathogens.
After Your Appointment
Once you leave the office, the staff will be sure to thoroughly clean every area that you may have touched with a powerful disinfectant. This should drastically reduce the risk of illness being passed from patient to patient.
Even when a pandemic isn't going on, your dentist's office is among the safest places you could be, due to their strict health and safety protocols. Make sure to schedule a checkup as soon as your Farmington dentist reopens. Don't worry; you're in good hands.
About the Author
Dr. Thomas G. Peters is a Master of the Academy of General Dentistry, an achievement that only 2% of all dentists have accomplished. He has also been voted Best Hartford County Dentist several times. His practice takes great precautions to ensure that all his patients are safe and infection-free. To learn more about his office's specific safety protocols, visit his website or call (860) 677-8500.
Comments Off

on What to Expect at Your First Appointment After Your Dentist Reopens
No Comments
No comments yet.
RSS feed for comments on this post.
Sorry, the comment form is closed at this time.