June 8, 2020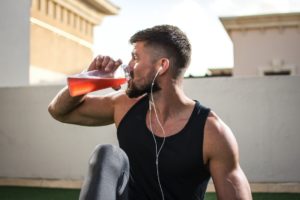 Summer is finally here. You've been waiting for it to come around all year. Now that the weather is nice, it's an ideal time to stay active. Staying hydrated is extremely important for the health of your whole body, but bright-colored sports drinks aren't the best option, especially when it comes to your smile. Your family dentist shares the damaging effects that sports drinks can have on your teeth and which alternative beverages you can try instead.
Why Are Sports Drinks So Harmful?
These sugary beverages contain high sugar and acid content. For your teeth, this is a terrible combination. The acid softens your tooth enamel and the sugar fuels bacteria growth. Having both acid and sugar together can leave your teeth vulnerable to many issues including:
Tooth decay: When your enamel is weak and bacteria are eating away at your teeth, it is much more likely that you will develop cavities and tooth decay.
Discoloration: The dentin in your teeth becomes exposed as your enamel wears down. This gives your teeth a yellow appearance.
Sensitivity: A corroded enamel can increase temperature and texture sensitivity. This means you may experience pain and discomfort when eating certain foods.
Indentations: These "cups" can form on the chewing surface of the teeth as a result of softened enamel.
Cracks and Chips: It is much easier for your teeth to chip or crack when the protective enamel is compromised.
Transparency: The surface of your front teeth may appear to be transparent and blue near the edges.
How Do I Protect My Teeth from Sports Drinks?
You should definitely limit your consumption of these beverages. On occasion, if you choose to have one, make sure to take these precautions to limit its damaging effects:
Drink them with a meal. When you're eating, your mouth will produce more saliva which helps to neutralize the acid in the beverage.
Rinse your teeth with water afterwards.
Don't brush your teeth immediately after having a sports drink. Brushing too soon can damage your softened enamel. Wait about an hour.
Use a straw in order to limit the contact between the liquid and your teeth.
What Should I Be Drinking Instead of Sports Drinks?
Water is always the best option, but if you're worried about replenishing your energy during a grueling workout, try one of these tooth-friendly alternatives:
Banana: Consuming a banana and drinking water is a great alternative to sugary drinks. Bananas contain antioxidants, fiber, potassium, and vitamin B6.
Watermelon juice: In addition to keeping you hydrated, watermelon juice contains plenty of nutrients including vitamins A and C, potassium, and magnesium.
Coconut water: It keeps you hydrated while offering you plenty of wholesome nutrients.
Chocolate milk: When consumed in moderation, it contains a great balance of proteins and carbohydrates. It also has vitamins A and D.
You're going to get thirsty when you're active. When it's time to rehydrate, reach for a glass of water or another tooth-friendly option. By being aware of what you're putting into your body, you can keep yourself and your smile in good shape.
About the Author
Dr. Thomas G. Peters is a family dentist practicing at Farmington Valley Dental. He earned his DMD at the University of Connecticut School of Dental Medicine. He's a member of several professional organizations including the American Dental Association, the Connecticut State Dental Society, the Academy of General Dentistry, and the Hartford Dental Society. For more information or to schedule an appointment, visit his website or call (860) 677-8500.
Comments Off

on Should I Be Drinking Sports Drinks This Summer?
No Comments
No comments yet.
RSS feed for comments on this post.
Sorry, the comment form is closed at this time.