July 24, 2020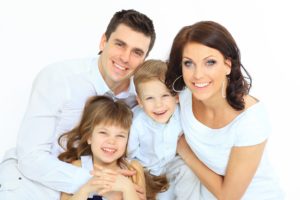 As your family spends time enjoying the warm summer months, the last thing on your mind is their oral health. Unfortunately, if you don't keep healthy smiles a priority, it could lead to some unfortunate news when you see your family dentist in Farmington in the fall. Don't worry, you can commit to your family's dental health without dampening any fun. Here are 5 tips to use to invest in healthy smiles this summer.

1. Drink Up
Drinking plenty of water is more important than ever during summer. Not only does it help you stay hydrated, but it also promotes a healthy smile. Taking a sip of water helps remove harmful bacteria in your mouth that can lead to common dental issues, like tooth decay, gum disease, and bad breath. It's best to always encourage your family to drink water instead of sodas and sugary drinks. Tap water is a convenient and readily available solution that also contains fluoride, which is proven to help make your enamel more resistant to decay.
2. Snack Smart
Everyone enjoys a sweet treat on a hot summer day, but you might want to reconsider how often your family eats ice cream or cookies. Although they might satisfy your sweet tooth, they can lead to cavities. When sugars in foods and drinks combine with bacteria in your mouth, it creates an acidic plaque that erodes your enamel. It's best to choose healthier alternatives, like low-fat cheese or fresh celery sticks.
3. Keep Oral Hygiene Fun
With the excitement of summer, it's easy for your family to overlook brushing twice per day or even flossing. It's best to create a time each day for your family to commit to their teeth and gums together. Making it a family event keeps it fun while also ensuring your loved ones are brushing and flossing enough.
4. Protect Your Smiles
Summer wouldn't be complete without fun games of soccer, basketball, or another sport. While your family enjoys their favorite pastimes, be sure their smiles are protected. An athletic mouthguard is a simple but effective way to significantly lower the risk of oral injuries if there is any impact to the face or mouth. Research shows an athletic mouthguard can also help lessen the severity of a concussion. As your family heads out on to the court or field, make sure their smiles have the protection of an athletic mouthguard.
5. Visit the Dentist
Summer is the perfect time to schedule dental appointments because life slows down a bit. You can ensure unexpected dental complications don't ruin your summer plans with routine cleanings and checkups.
Don't let summer leave a lasting mark on your loved one's oral health. Commit to their teeth and gums to ensure their smiles are the brightest.
About Dr. Thomas G. Peters
Dr. Thomas G. Peters is committed to dental excellence. Besides earning his dental degree, he takes many hours of continuing education each year to provide the latest solutions in dentistry. He focuses on prevention to create healthy smiles that last. If it's time for your family's semi-annual visit, contact our office today for an appointment.
Comments Off

on 5 Tips for Healthy Smiles this Summer
No Comments
No comments yet.
RSS feed for comments on this post.
Sorry, the comment form is closed at this time.