June 2, 2021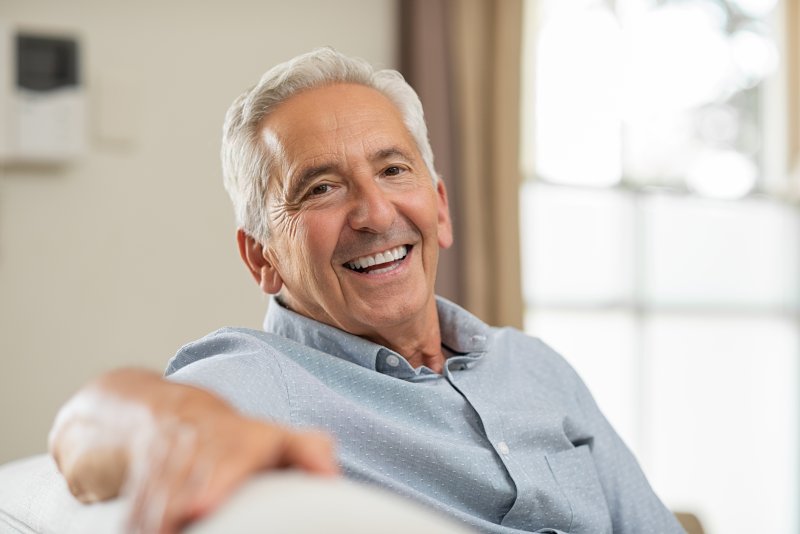 Practicing proper dental care is crucial from early childhood up to your senior years. If anything, taking care of our teeth becomes even more important as we age. Older adults are susceptible to oral health conditions that younger people can more easily avoid. Thus, elderly dental care is an essential part of maintaining a senior's overall quality of life. Read on to find out what happens to your smile as you get older and learn a few dental hygiene tips for aging teeth.
What Happens to Our Smile as We Get Older?
Senior citizens are at increased risk for certain oral health conditions, such as:
Dry Mouth
As you get older, you're more likely to be on regular medications, have a chronic condition, or use dentures long-term. A common side effect from these features is dry mouth, which puts you at an increased risk for cavities and decay.
Gum Disease
Several factors can contribute to gum disease, such as plaque, tobacco use, an unhealthy diet, ill-fitting dentures and bridges, and certain medical conditions (diabetes, anemia, and cancer). Luckily, you can prevent it from developing by practicing proper oral hygiene and routinely visiting your dentist.
Root Decay
This issue occurs when your gums recede, causing the roots of your teeth to become exposed. Tooth roots are more prone to bacteria and decay because they do not have enamel to protect them from decay-causing acids.
Tooth Sensitivity
Gums naturally recede over the years, exposing the roots of your teeth, which eventually leads to sensitivity. It could indicate a more severe problem, such as a fractured tooth or a cavity, but it is often simply an age-related issue. You can use anti-sensitivity toothpaste to improve symptoms.
Oral Health Tips for Seniors
If you're an older individual, don't worry — just because you're susceptible to dental health issues doesn't mean you will experience them! You can keep your mouth, teeth, and gums in optimal condition with the following tips:
Routinely visit your dentist. Regular cleanings and oral exams will keep you one step ahead of potential health problems, even if you wear dentures.
Brush and floss daily. Brush your teeth with fluoride toothpaste twice a day for at least two minutes, and floss at least once a day.
Avoid tobacco. Any form of tobacco can increase your risk of tooth decay, oral cancer, heart disease, and other severe health conditions.
Use an antiseptic mouthwash. Rinsing with mouthwash at least once a day will help kill harmful bacteria and reduce plaque buildup.
Increase fluoridation. Seniors are at increased risk for cavities. Using fluoride will help strengthen your teeth and protect the enamel.
Most elderly dental problems can be easily identified, resolved, and prevented with regular checkups and a solid at-home oral hygiene routine. Using the tips highlighted above, you can protect your smile from the effects of aging and keep it in its best shape for a lifetime!
About the Author
Dr. Thomas G. Peters provides all patients with outstanding, quality dental care. He takes hours upon hours of continuing education each year to ensure he stays current with advances in dentistry. From children and teens to adults of all ages, Dr. Peters and the team at Farmington Valley Dental will do everything possible to meet your family's needs. For more information on how to take care of aging teeth, visit our website or call (860) 677-8500.
Comments Off

on Elderly Dental Hygiene Tips for a Healthy Smile
No Comments
No comments yet.
RSS feed for comments on this post.
Sorry, the comment form is closed at this time.