July 6, 2021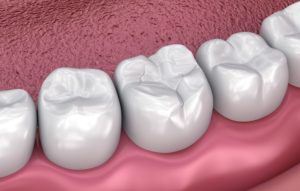 Tooth decay is the biggest threat your smile faces. Despite several dental advancements, it is still the most prevalent oral health issue. Thankfully, you can keep cavity-causing bacteria at bay through your oral hygiene habits at home, a healthy diet, and regular care from your dentist, but is there more you could be doing? Can adults get dental sealants? Yes! You can prevent 80% of cavities for the next 2 years. Here's what you need to know about adding the protection of dental sealants to your smile.
What is a Dental Sealant?
A dental sealant is a thin coating that's applied to protect cavity-prone areas of the teeth to prevent decay. With 90% of cavities occurring on the molars, the sealant creates a protective shield over their surfaces. It creates a barrier between the deep grooves and the outer layer of your tooth.
Dental sealants are a routine part of preventive care for children because they don't have the best brushing and flossing methods, but you're never too old for their protection. While children are the most prone to decay, adults aged 20 to 34 have more untreated cavities in their molars than any other age group.
Am I a Candidate for Dental Sealants?
Did you know about 25% of adults have at least one cavity that hasn't been treated? Unfortunately, it isn't always caused by a diet that's high in sugar. Some people are predisposed to tooth decay, such as from genetics or taking certain medications. In instances such as these, dental sealants are suitable for adults. Generally, if the enamel can't be preserved by reducing risk factors through oral hygiene or diet changes, such as genetics, you may be a candidate for sealants. Your dentist will review your dental and lifestyle history to determine if they are right for you.
What Can I Expect?
Applying dental sealants is a painless process that only takes about 5 to 10 minutes per tooth during your semi-annual cleanings and checkups. Once your dental hygienist has cleaned your teeth, your dentist will apply a weak acid to the chewing surface of the tooth to open the pores in the enamel. This is necessary to kill bacteria while also ensuring a strong bond between your tooth and the sealant. The acid is rinsed off before the clear sealant is placed onto your tooth and quickly hardened using a special dental light.
Benefit from a Cavity-Free Smile
Although dental sealants for adults are effective at stopping decay, they aren't a substitute for brushing and flossing. Besides caring for your smile at home, be sure to visit your dentist at least every 6 months for a cleaning and checkup.
About Dr. Thomas G. Peters
Dr. Peters earned his dental degree at the University of Connecticut School of Dental Medicine and has achieved the highest honor awarded in the Academy of General Dentistry. He has completed over 1,100 hours of continuing education to provide his patients with superior care. If it's time for your next cleaning and checkup, contact our office today for an appointment.
Comments Off

on You're Never Too Old for Dental Sealants
No Comments
No comments yet.
RSS feed for comments on this post.
Sorry, the comment form is closed at this time.