September 8, 2021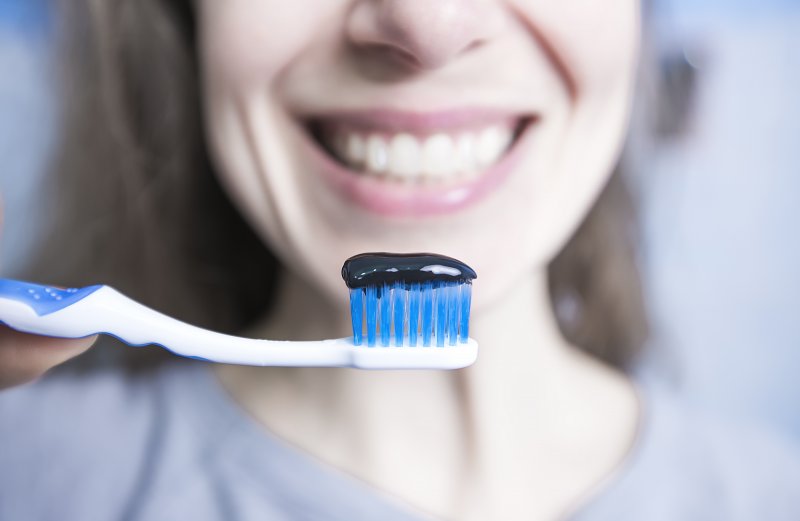 Nowadays, everyone wants to stay on top of the latest trends. Thanks to social media and the internet, it's easier than ever to be in the loop on what's hot and what's not. Well, activated charcoal is one ingredient that has become all the buzz in recent years. People claim that because it absorbs dirt and impurities, it can effectively whiten teeth as well. But before you start brushing with the grainy substance, here's what you need to know about it and why you should see a professional for teeth whitening instead.
What Is Activated Charcoal?
Activated charcoal is a fine black powder made from several natural substances, including coconut shells, olive pits, slowly burned wood, and peat. It's created by heating regular charcoal in the presence of gas, causing it to become porous and highly absorbent. What's unique about this substance is it can bind to toxins and odors rather than soaking (absorbing) them up. Some people claim that activated charcoal can alleviate gas, lower cholesterol levels, prevent hangovers, and even whiten teeth.
How Does Charcoal Toothpaste Work?
Purchasing a new toothpaste can be overwhelming. There are shelves upon shelves of various types of dental products, many of which contain activated charcoal. These types of toothpaste use charcoal powder to clean teeth. Although charcoal toothpaste promises to eliminate stains and reduce plaque, there's no scientific evidence to support these claims. In fact, the abrasive texture may even harm teeth rather than whiten them by wearing down the enamel. If you decide to use charcoal toothpaste for its "benefits", make sure you do so cautiously as overuse can lead to teeth erosion.
Is Charcoal Toothpaste Safe for Teeth Whitening?
Using charcoal toothpaste to brighten your pearly whites can do more harm than good. As mentioned earlier, the abrasive substance can wear down enamel over time. Since charcoal can effectively scrub away surface stains, your teeth may initially look whiter. However, they'll eventually look more yellow over time because you're thinning the enamel and showing more of the inner dentin, which is darker. As a result, you can increase your risk of sensitivity and tooth decay.
Why You Should Consider Professional Teeth Whitening
Are you unhappy with the color of your smile? Your cosmetic dentist can restore its brightness with professional teeth whitening treatment. They'll use professional, high-quality, and effective materials to whiten your teeth dramatically without putting them at risk. With their help, you can achieve your desired results quickly and safely! Most dental offices offer in-office whitening and a take-home bleaching kit, so you can choose the option that works best for you.
If you're thinking about using charcoal toothpaste, ask your dentist what they recommend. They'll suggest options that are safe for you to try and discuss alternatives as well.
About the Author
Dr. Thomas G. Peters strives to provide every patient with the exceptional, high-quality, compassionate dental care they deserve. He earned his Doctor of Dental Medicine from the University of Connecticut School of Dental Medicine. Since graduating, Dr. Peter has attended numerous hours of continuing education to ensure patients receive the best treatment possible. If you're interested in teeth whitening, he's more than happy to discuss safe, effective options with you. Visit our website or call (860) 677-8500 to make an appointment.
Comments Off

on Activated Charcoal: Is It Safe for Teeth Whitening?
No Comments
No comments yet.
RSS feed for comments on this post.
Sorry, the comment form is closed at this time.