December 4, 2021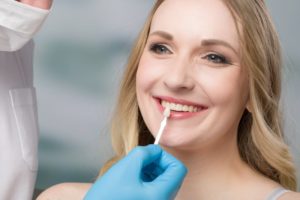 When you decide to get porcelain veneers, part of the process early on is wearing temporary veneers over your prepared teeth. It's helpful to understand how they are different from permanent veneers and why you need them.
Read on as your dentist in Farmington discusses those aspects of temporary veneers, as well as how to take care of them.
How Are Temporary Veneers Different from Permanent Ones?
After your teeth have been prepared and impressions are taken, there will be a 1-2-week waiting period while your porcelain veneers are created. During this appointment, your dentist will fit you with a set of temporary veneers to wear in the meantime. Think of it as a trial period to help you visualize what your permanent ones will look like once they're attached.
So, what's the difference between these two types of veneers? The permanent version is crafted out of porcelain, while the temporary ones are made of dental wax, composite resin, acrylic, or other materials. Since they're not made of porcelain, they won't match the exact color of your surrounding teeth. They also won't be as durable because they are secured with enough cement to only last a few weeks.
How Will Temporary Veneers Help Me?
There are three reasons why temporary veneers are necessary:
Test Run – Temporary veneers will give you an idea of what your permanent ones will look like. It helps your dentist see if any adjustments need to be made.
Protect Sensitive Teeth – Removing a thin layer of enamel can cause tooth sensitivity. Luckily, temporary veneers can shield the area and keep teeth from reacting to hot, cold, sweet, or acidic foods.
Appearance – When your teeth are prepared for veneers, they can look a bit odd, which is why temporary veneers are used to make them look normal while your permanent teeth are prepared.
How Do I Protect My Temporary Veneers?
Even though they won't be needed for a long time, it's still important to take good care of your temporary veneers. Here are things you should do:
Keep your smile healthy. You must maintain good oral hygiene while wearing your temporary veneers. Brush your teeth twice a day and floss daily in between your veneers.
Stay away from dark-pigmented drinks and foods. Temporary veneers stain easily, so avoid dark-colored foods and drinks, such as soda, tea, red wine, and coffee.
Avoid sticky or hard foods. Since your temporary veneers can easily be removed, be sure to avoid foods that possibly dislodge them due to chewing or biting.
Remember, temporary veneers are just that. But they do advance you down the path toward your new smile!
About the Author
Dr. Thomas Peters earned his dental doctorate from the University of Connecticut. He has achieved the highest honor awarded in the Academy of General Dentistry by becoming a Master (MAGD), which is a distinction less than two percent of U.S. dentists hold. One of the qualifications for the honor was completing a minimum of 1,100 hours in dental courses covering current technology and techniques. If you are interested in veneers, Dr. Peters offers a minimally invasive procedure, natural-looking results for up to 15 years with proper care, plus enhanced color, size, and shape of your teeth. To schedule a consultation, visit his website or call (860) 677-8500.
Comments Off

on Why Do I Need to Wear Temporary Veneers?
No Comments
No comments yet.
RSS feed for comments on this post.
Sorry, the comment form is closed at this time.