April 14, 2022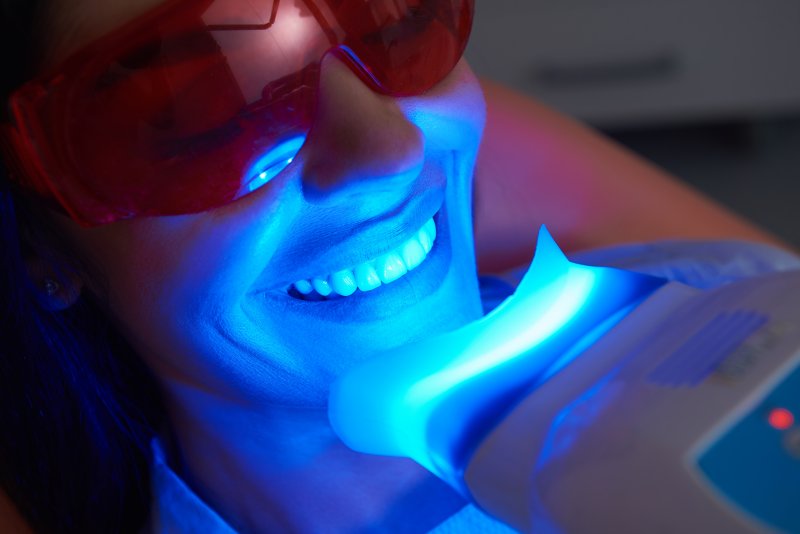 So, you've decided to get your teeth whitened. Tired of yellow enamel, you want those pearly whites to live up to their name. However, you're facing a bit of a problem at the moment. Namely, you feel sure whether to get professional whitening or a store-bought kit. After all, what's the difference between the two approaches? Well, your Farmington dentist is here with the answer. To learn more, here are four advantages of professional teeth whitening over store-bought kinds.
Pro Teeth Whitening Uses Stronger Ingredients
As it turns out, store-bought whiteners use little peroxide to bleach enamel white. Specifically, kits have as little as 10% of the material. On the other hand, dentist-approved gels have up to 40%. Therefore, kits aren't as effective as dentist's whitening agents. Even when a kit does show some effect, it usually takes longer than professional work to become visible. Plus, you'd likely need many store-bought kits to match the results of dentist-approved whitening.
Pro Teeth Whitening is ADA-Approved
Another upside to professional whitening is that the American Dental Association approves it. After studying the procedure, they confirmed it's reliable, safe, and effective.
The same isn't true of all store-bought kits. While some have the ADA Seal of Acceptance, others harm teeth. For example, whitening toothpaste has abrasives that can erode tooth enamel.
Your Dentist Can Personalize Treatment
Store-bought kits can seem convenient, but they use a one-size-fits-all approach. As such, their treatment doesn't consider stain causes, tooth alignment, and so on. Depending on your situation, a kit might not work as well for you as it might for someone else.
Meanwhile, dentists customize their professional whitening procedures. Since they supervise your treatment, they'll account for important issues to ensure high-quality results.
Store-Bought Kits Can Have Side Effects
One effect of teeth whitening treatments is tooth sensitivity. To prevent that from happening, dentists can control the peroxide in the gel for take-home whitening trays. Doing so lets them tailor your whitening to your sensitivity levels.
In contrast, store-bought kits cause sensitivity that you'd have to wait out.
As you can see, professional whitening with a dentist has perks that store-bought kits don't. Talk to your local dental practice to see if they could whiten your teeth in the coming days.
About the Author
Dr. Thomas J. Peters is a dentist in Farmington, CT, having earned his DMD from the University of Connecticut's School of Dental Medicine. Post-graduation, he gained the title of Master in the Academy of General Dentistry. In his work, Dr. Peters specializes in preventive, cosmetic, and restorative dental treatments, including emergency procedures as needed. He currently practices at Farmington Family Dental and can be reached at his website or by phone at (860)-677-8500.
Comments Off

on Why Get Professional Teeth Whitening Instead of Store-Bought?
No Comments
No comments yet.
RSS feed for comments on this post.
Sorry, the comment form is closed at this time.