May 13, 2022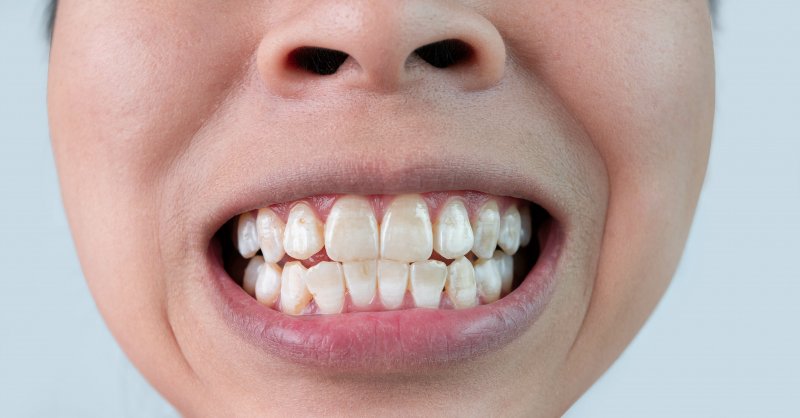 While brushing, you might have noticed white spots on your teeth. Whether they are new or have been there for years, they're usually not anything to worry about in terms of oral health. That said, they could still make it harder for you to feel confident about showing off your smile. What caused these white spots, and what can you do about them? Your dentist has the answers.
What Causes White Spots on Teeth?
A white spot on the tooth is usually caused by decalcification, which happens when the acids produced by bacteria remove calcium, phosphorous, and other important minerals from your enamel. The loss of these minerals causes permanent chalky white spots to appear on the teeth. While it can be difficult to tell exactly what caused the white spots, possible culprits include:
Excessive Bacteria: If you don't practice good oral hygiene and keep your mouth free of bacteria, you will be more likely to see white spots.
Too Much Fluoride: Fluoride is important for maintaining strong, healthy enamel, but too much can lead to white spots due to fluorosis. This usually occurs in children between the ages of one and eight years old, which is why you need to be mindful of how much fluoride your child receives daily.
Diet: A diet that's low in calcium can easily result in white spots on your teeth. You also need to be careful around acidic foods that could lead to decalcification (as well as more serious dental damage).
Medications: Certain medications, such as amoxicillin and other antibiotics, can affect the way the mouth builds enamel, leaving the teeth more vulnerable to bacteria attacks that can result in white spots.
How Can You Get Rid of White Spots?
In many cases, the white spots on your teeth can be corrected with teeth whitening. A bleaching solution is applied to the enamel so that it can break up the white spots into smaller stains that are far less noticeable. The procedure can be performed in less than an hour at the dentist's office, but you can also use at-home whitening trays that deliver dazzling results in about two weeks.
If your teeth aren't responding to professional whitening, your dentist can instead cover them up with veneers, which are wafer-thin porcelain shells that can be placed on the smile to hide white spots and various other flaws. Veneers take at least two appointments; the first visit is spent preparing the teeth and taking impressions, and the second visit is when the veneers are placed.
White spots on teeth can be quite the headache for people trying to look their best, but luckily the issue is completely manageable. Give your dentist a call today to see how they can help you say goodbye to the undesired spots on your smile.
About the Author
Dr. Thomas G. Peters received the highest honor awarded by the Academy of General Dentistry by becoming a Master, something that only 2% of dentists in the United States have done. At Farmington Valley Dental, he offers various services under a single roof; this includes cosmetic treatments like teeth whitening and veneers that can correct white spots on the smile. To schedule an appointment, visit his website or call (860) 677-8500.
Comments Off

on What to Do About White Spots on Your Teeth
No Comments
No comments yet.
RSS feed for comments on this post.
Sorry, the comment form is closed at this time.