July 22, 2022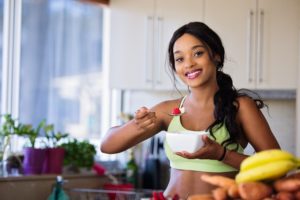 Your teeth are protected by the hardest substance in your body. Your enamel is the outer layer of your teeth responsible for protecting the softer dentin and pulp. Every day, your enamel is under attack by cavity-causing bacteria that can lead to tooth decay. Unfortunately, your enamel won't grow back once it has been lost. Fluoride is known as "nature's cavity fighter" because it makes teeth more resistant to decay. You can find it in many public water sources and dental products, but did you also know you can get it through your diet, too? Here are 5 foods with fluoride to defend your smile. 
1. Grapes, Wine, and Raisins
Grapes are a versatile and natural source of fluoride. When transformed into raisins, you have one of the highest concentrations of fluoride found in foods. In addition to eating a handful of grapes or raisins, a glass of wine can help strengthen your enamel. If you prefer a nonalcoholic drink, grape juice is a tasty treat, but choose one without any added sugar.
2. Fresh Fruit
Many fruits contain fluoride in abundance, like peaches, apples, bananas, and strawberries. Eating fruit fresh is the best way to achieve the benefits of vitamins, minerals, and other nutrients.
3. Vegetables
Vegetables are rich in vitamins and nutrients, but they also contain fluoride. Spinach and potatoes contain the highest levels of nature's cavity fighter. You can cook them several ways without losing their benefits.
4. Seafood
If you love crab legs, shrimp, or other seafood, now you have another reason to indulge in a tasty meal. Seafood is an amazing source of fluoride.
5. Coffee and Tea
Black tea and coffee can give you a boost of energy while also combating tooth decay. Using tap water to brew your favorite tea or coffee will give your smile extra protection. However, rinse your mouth with water after drinking it to prevent discoloration and stains.
Invest in a Cavity-Free Smile
Fluoride works along with calcium and phosphate to strengthen enamel to make it more resistant to decay. In some situations, you can even reserve early stages of demineralization to prevent a cavity from worsening.
Although fluoride is a powerful cavity preventer, it isn't a substitute for your oral hygiene routine. Brush your teeth at least twice daily and floss every night before going to bed. Use an antimicrobial mouthwash to kill any bacteria left behind by your toothbrush and floss.
Besides caring for your smile at home, schedule a cleaning and checkup every 6 months. Your dentist will keep your smile clean and healthy using the best preventive methods in dentistry.
About Dr. Thomas G. Peters
Dr. Peters earned his dental degree from the University of Connecticut School of Dental Medicine and completed extensive education in general dentistry. He strives to help each patient maintain optimal oral health through the power of prevention. If it is time for your next cleaning and checkup, contact our office today to schedule an appointment.
Comments Off

on 5 Foods to Eat for Added Fluoride
No Comments
No comments yet.
RSS feed for comments on this post.
Sorry, the comment form is closed at this time.