September 13, 2022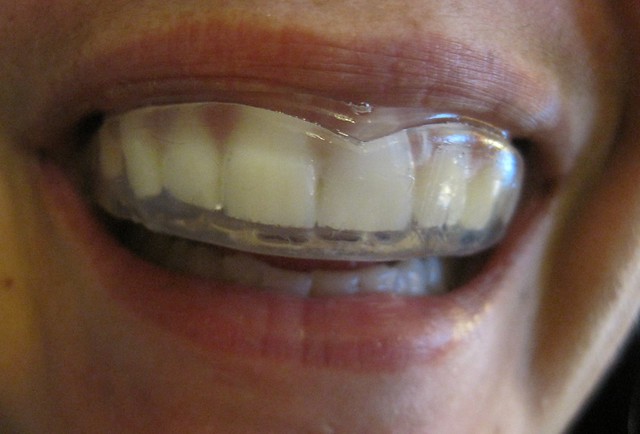 Bruxism is a condition that's characterized by teeth grinding and jaw clenching. According to the Sleep Foundation, bruxism affects approximately six to 50% of children, 15% of teens, 8% of middle-aged adults, and 3% of elders. If you have issues with teeth grinding and jaw clenching, you may have trouble getting enough sleep.
Fortunately, dental mouthguards can provide some relief. A mouthguard is designed to protect your teeth and other oral structures from harm so you can avoid dental damage, TMJ (temporomandibular joint) issues, and more. If you have a mouthguard or are preparing to get one, read on to learn three tips that will help you keep it in good condition.
Tip #1: Don't Forget to Wear Your Mouthguard
Make sure to wear your mouthguard every time you go to sleep. This will keep your teeth from grinding together. If you usually take naps when you get home from school, work, or after dinner, store your mouthguard somewhere nearby. This will allow you to easily access it so you can put it on whether you're napping on the couch, in your bed, or in your favorite recliner.
Tip #2: Take Good Care of Your Dental Guard
Wearing your mouthguard whenever you go to sleep is only half the battle. You also need to make sure to take good care of it by doing the following:
Rinse – Rinsing off your mouthguard is key to preventing bacterial buildups. Make sure to use cool, fresh water to wash it off when you remove it in the morning. You should also clean the case you store it in. Use dishwashing detergent to do so every few days.
Brush – With a soft-bristled toothbrush and mild or non-abrasive toothpaste or alcohol-free soap, gently brush your dental guard once daily. This will remove bacteria, plaque, and any other gunk that's accumulated on it.
Soak – Pour a capful of mouthwash into a clean glass. Put your mouthguard in the glass and add enough water to cover it. Soak your mouthguard in the mixture for 30 minutes.
Dry it out – Allow your dental guard to dry on a clean surface before you store it in a protective case with air circulation.
Avoid hot water – Don't use hot water to clean your mouthguard since this can cause it to lose shape and stop fitting correctly.
Tip #3: Have Your Mouthguard Examined by Your Dentist
Seeing your dentist every six months is key to maintaining excellent oral health. Bring your mouthguard with you to these appointments so your dentist can examine it. If they notice any issues with it, your dentist can have a new one made. You may also be able to get it professionally cleaned so you can leave your appointment with your nightguard fresh and bacteria-free.
Protecting your mouthguard from harm and keeping it sanitary are key to avoiding oral health issues. With these three tips, your smile will be safe, clean, and cavity-free!
About the Author
Farmington Valley Dental is led by Dr. Thomas G. Peters, a skilled dentist who has lived in the Farmington area for over 43 years. He enjoys using his expertise to help patients keep their pearly whites healthy and bright. For people suffering from bruxism, he offers dental mouthguards that can protect their teeth and jaw from damage. If you want to make an appointment with Farmington Valley Dental or are interested in getting more information on mouthguards, you can call their office at (860) 677-8500 or visit their website.
Comments Off

on 3 Tips to Take Care of Your Mouthguard
No Comments
No comments yet.
RSS feed for comments on this post.
Sorry, the comment form is closed at this time.