November 7, 2022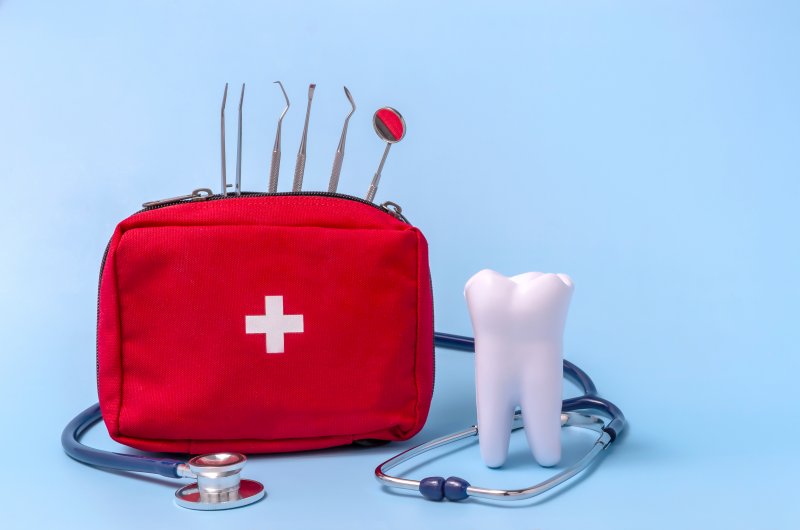 A knocked-out tooth. A severe toothache. A dislodged dental crown. Dental emergencies can catch anyone off guard! That is why it is best to be prepared so no one have to panic. Help can be right at your fingertips until you or your loved ones are able to visit the dentist for emergency care. Here are the essentials for your dental emergency kit so everyone, including their teeth, can be taken care of!
Medical-Grade Gloves
Medical-grade gloves are incredibly important when it comes to an oral health emergency. You don't want to expose your blood and saliva to others, and vice versa. It is wise to wear gloves anytime you are assisting someone with a dental emergency, especially when they are bleeding. They help to prevent the spread of infections and germs. Latex gloves are by far the most popular choice, but you should also have vinyl gloves on hand just in case the person you're helping has a latex allergy.
Dental Mirror
Does the person you're helping have a dental problem that is hard to see because it is at the back of their mouth? A dental mirror is a handy tool that will help you view the teeth and gums that are located further in the back. You can buy one with an attached light or purchase a separate small flashlight for your kit as well.
Pain Reliever
Although your emergency dentist can help when it comes to alleviating pain, you'll need something in the meantime for immediate relief. Be sure to include your preferred over-the-counter pain reliever. However, do not use aspirin; it's an anticoagulant, which makes it more difficult for blood to clot. Instead, choose products that contain ibuprofen or acetaminophen.
Cotton Balls and Gauze Pads
These soft items come in handy whenever there is a cheek injury or any bleeding. Pack them in a plastic bag or container so they can stay clean and ready for use in the event of a dental emergency.
Dental Wax
Dental wax can soothe irritations against the gums and cheeks. If anyone in your family wears braces, this could come in handy if the metal wires or brackets are causing discomfort. Additionally, the wax can be used to reattach a dislodged tooth temporarily or cover the surface of a tooth that is chipped or broken.
Salt
While salt water is not a good solution for wounds on the skin, it is very useful for sores and open wounds in the mouth. Many bacteria in your mouth are sensitive to salt, so it is a great disinfectant. When there is a lost tooth or an open wound, rinse the mouth gently with warm salt water. It will also help diminish the pain.
Equipped with these helpful items, you will be prepared for anything that comes your way to help you and your loved ones with a dental emergency!
About the Author
Dr. Thomas Peters serves the smiles of Farmington and the surrounding areas. His many achievements, like being a Master in the Academy of General Dentistry (MAGD), shows his deep commitment to providing quality care to you and your family! With less than 2% of dentists earning this prestigious professional designation, he is fully equipped to handle any of your dental emergencies. If you need fast help with a dental emergency, contact him through his website or call (860) 677-8500.
Comments Off

on To the Rescue! Creating a Dental Emergency Kit
No Comments
No comments yet.
RSS feed for comments on this post.
Sorry, the comment form is closed at this time.