December 5, 2022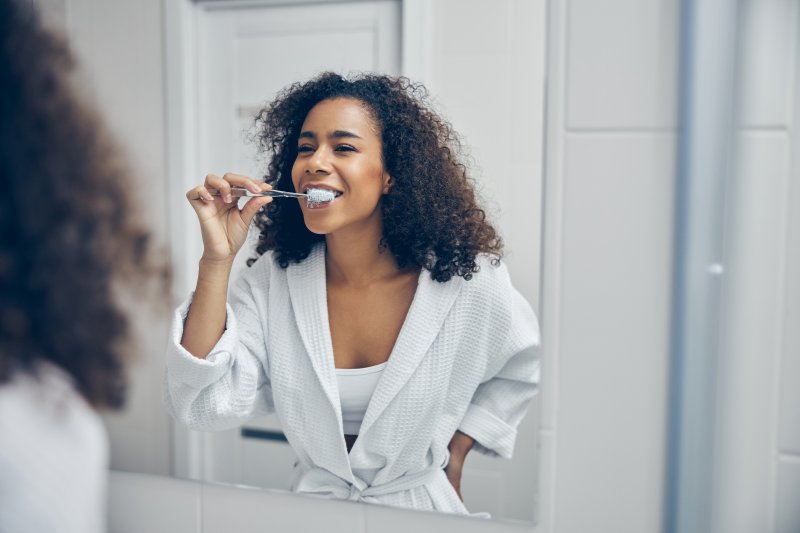 If you practice a solid oral hygiene routine, then you likely brush your teeth twice a day. By doing so, you'll effectively keep your pearly whites clean and safe from issues like decay, cavities, and gum disease. However, some people choose to scrub their smiles at different times, especially when it comes to eating their first meal of the day. Read on to learn why you should be brushing your teeth before breakfast instead of afterward!
Why Brushing Before Breakfast May Be Better
Many people experience waking up with a bitter taste in their mouth or a pungent odor on their breath. This is mostly due to plaque-causing bacteria that accumulate while you're sleeping. The good news is that you can start your day with a fresh smile by brushing your teeth with fluoride toothpaste. By doing so, you can stimulate your saliva production right away (which helps prevent decay) while protecting your pearly whites from the acid in your meals.
Precautions for Brushing After Breakfast
While you can preserve your smile better by brushing it before breakfast, some patients prefer to clean it afterward. Though you can still maintain healthy teeth by practicing your routine later on, you'll need to wait 30 minutes or longer once you've finished your meal. Some breakfast foods like pastries and orange juice are high in acidity, which can wear down and weaken your enamel. Trying to clean it off right after eating can end up spreading the particles around your mouth and worsening their effect. Instead, be sure to drink lots of water or chew on sugarless gum until you can brush.
How to Properly Brush Your Teeth
Other than knowing when to clean your teeth, it's also important to know the proper technique. Whether using a regular or electric toothbrush, make sure to practice the following steps:
Rinse your toothbrush head with clean, running water before applying a tiny amount of fluoride toothpaste.
Brush for two minutes, gently scrubbing the front, sides, and chewing areas.
Scrub your tongue from back to front with your toothbrush to remove bacteria residue.
Spit out leftover toothpaste and thoroughly rinse your mouth with clean water.
Brushing your teeth before breakfast can benefit your oral health significantly. Scrub your pearly whites as soon as you wake up, and you'll be able to enjoy a happier and healthier smile in the long run!
About the Author
Dr. Thomas G. Peters earned his dental degree from the University of Connecticut School of Dental Medicine. He's also a member of various prominent groups like the American Dental Association and the Hartford Dental Society. He provides a vast collection of high-quality services, including dental checkups/cleanings, periodontal therapy, and fillings. If you'd like to know more about when you should brush your teeth, visit his website or call him at 860-677-8500.
Comments Off

on Before or After Breakfast: When Should I Brush My Teeth?
No Comments
No comments yet.
RSS feed for comments on this post.
Sorry, the comment form is closed at this time.