January 5, 2023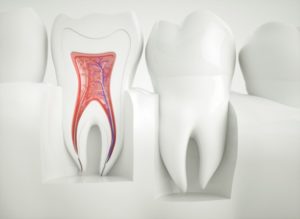 Ah, the dreaded root canal therapy. Hollywood has perpetuated the myth that it is painful but 95% of people experience little to mild discomfort with the procedure. As a matter of fact, root canal therapy is meant to alleviate your dental issues, not cause more! People are so relieved when they finally have their infected tooth treated. According to a University of Gothenburg thesis, 87% of root canal patients would choose to have the same treatment again if they needed to. Read on from your dentist in Farmington to learn three reasons why you will be glad you restored your tooth to health with root canal therapy.
#1. You Will be Relieved from Pain
Root canal therapy is performed by dentists to treat an infection of the dental pulp (the inside portion of the tooth where the nerve is housed). Unfortunately, these infections can cause intense toothaches, which may be why people associate the procedure with pain. But once the infected pulp is removed, the pain will be relieved. With anesthetics and dental sedation, getting a root canal is no more painful than getting a filling!
By having your tooth treated as soon as possible, you can stop the infection from spreading and avoid the risk of further health issues. The longer you delay your treatment, the more the likelihood of your well-being being affected. It's in your—and your body's—best interest to take action with root canal therapy as soon as possible.
#2. The Procedure Can Save Your Teeth
It's a common belief that the effects of a root canal are short-lived and eventually the tooth will need to be extracted. The truth is that it can save an infected tooth from needing to be taken out! By removing the infected parts, cleaning the canal, and filling and sealing the tooth, your pearly white will be preserved so you can maintain your natural smile and bite. If you practice good oral hygiene and maintain your biannual dental checkups, your results will last a lifetime.
#3. You Will Save Time & Money
Root canal therapy will save your pearly white…which also means it will save you time and money in the future! While dental implants and other tooth replacement options are great ways to complete your smile and regain some of your bite power, nothing beats your natural teeth. In addition, you don't want to have to open your wallet (or your calendar) for a restorative option when your natural tooth can return to health with treatment. In all cases, getting a root canal can save you time and money by preserving your tooth.
About the Author
Dr. Thomas Peters serves the smiles of Farmington and the surrounding areas. His many achievements, like being a Master in the Academy of General Dentistry (MAGD), shows his deep commitment to providing quality dental care to you and your family! With less than 2% of dentists earning this prestigious professional designation, he is fully equipped to handle any of your dental emergencies, including if you need root canal therapy. To schedule an appointment, contact him through his website or call (860) 677-8500.
Comments Off

on 3 Reasons You Won't Regret Root Canal Therapy
No Comments
No comments yet.
RSS feed for comments on this post.
Sorry, the comment form is closed at this time.