March 26, 2023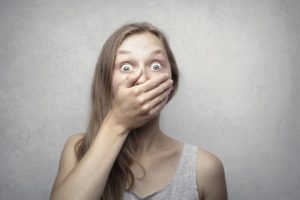 You only get one set of adult teeth, which means losing one can be a very traumatic experience. Contrary to what you might have heard, not all knocked-out teeth are gone for good. If you get to an emergency dentist within the next 30 minutes, they might be able to save your tooth. You can increase the odds by taking 5 steps at home until you see your dentist.
1. Pick Up Your Tooth By the Crown
Find your tooth and pick it up by the root. Be careful not to touch the root, and only handle it by the chewing surface.
2. Rinse It With Water
Gently rinse your tooth with cool water. Don't use any soaps or cleaners. Don't scrub or rub your tooth. Once it is clean, don't dry it off or wrap it up because it must be kept moist.
3. Put Your Tooth In the Socket
The sooner your tooth is put back into its socket, the better. Although it might make you nervous, hold your tooth by the crown and push it back into the socket. Close your mouth slowly and hold it in place by biting on a piece of gauze. However, if your tooth isn't in one piece, don't try to put it back in place.
4. Keep Your Tooth Moist at All Times
Your tooth cannot dry out. If you weren't able to get it back into the socket, place it in milk. Don't use regular tap water because it can damage the root surface cells. If you don't have any milk handy, place it in your mouth next to your cheek.
5. Contact Your Dentist Right Away
Time is of the utmost importance. If you don't receive dental care within 30 minutes of the injury, it becomes less likely your tooth can be saved. Contact your emergency dentist right away.
If you've swallowed the tooth or can't find it, don't panic. Place a piece of gauze over the socket to control any bleeding and head to your dentist. They'll examine your mouth and discuss your replacement options.
Treating Knocked-Out Teeth
If a tooth has been re-implanted successfully, your dentist can splint it using the teeth next to it. The temporary device will keep your tooth stable, allowing the ligaments, bone, and other vital tissues to reattach to it. If a tooth can't be saved, you don't have to worry about a gap in your smile. You have more options than ever before to replace a lost tooth, like a bridge or dental implant.
No matter the outcome, your dentist will restore your smile to before your accident using a personalized treatment plan.
About Dr. Thomas G. Peters
Dr. Peters earned his dental degree from the University of Connecticut School of Dental Medicine and has completed extensive continuing education in advanced specialties, like dental implants and emergency dentistry. If you need a dentist in a hurry, request an appointment through our website or call (860) 677-8500.
Comments Off

on Knocked-Out Tooth? 5 Steps to Take at Home
No Comments
No comments yet.
RSS feed for comments on this post.
Sorry, the comment form is closed at this time.