May 3, 2023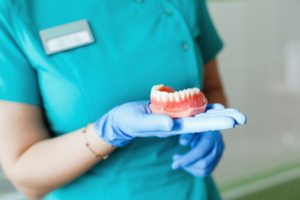 When it comes to replacing missing teeth, dentures are among the most tried and true available solutions. The prosthetics have helped countless generations of patients restore gaps in their smiles and resume eating, speaking, and more with relative ease. However, some patients falsely believe that having full dentures means they're exempt from attending their routine dental visits. Here's more about why you should absolutely continue visiting your dentist if you wear dentures.
Your Dentist Is Skilled at Identifying Oral Health Issues (and Problems with Your Dentures)
You're often unable to detect serious underlying problems on your own until they've worsened and become quite painful; however, visiting your dentist for routine care allows them to ensure that there's nothing wrong with your smile—whether it's natural or the result of dentures!
Even though dentures can't get cavities, your gum tissue is still susceptible to problems if you aren't diligent about oral hygiene, and your other oral structures can still encounter issues. Plaque and tartar can also accumulate on your dentures, dirtying your mouth and spawning additional bacteria.
It's also worth mentioning that as you age, the tissues in your mouth change which can in turn change how your dentures fit. You'll likely need to have your restorations adjusted to ensure they continue to fit as intended; these adjustments aren't something you can do on your own. In fact, it's not uncommon for a full denture to need refitting every few months, which can conveniently line up with your biannual visits!
You'll Get the Most Out of Your Restoration
Visiting your dentist regularly after receiving dentures will ensure that they're set up to last for as long as possible. As soon as they become dirty, damaged, ill-fitting, or compromised in any other way, their lifespan can become significantly shortened—meaning that your smile's beauty and functionality are at stake! But if you care for your dentures in cooperation with your dentist, you'll get plenty of mileage out of them; although they will need to be adjusted regularly, they can still grant you 7+ years of excellent use!
The bottom line is that as awesome as dentures are, having them doesn't mean you can totally skip going to your dental visits. In fact, it becomes more important than ever before, given the importance that falls on keeping your dentures clean and intact. In any case, understanding how they work and what they need to thrive will keep you smiling for many years to come.
About the Practice
The team at Farmington Valley Dental has proudly served patients and families in the Farmington, CT community for several years, offering an excellent level of dental care! Under the leadership of Dr. Thomas G. Peters, they offer several restorative treatment options including dentures to assist those with compromised smiles. If you have any questions about dentures or you need to arrange a visit with Dr. Peters, feel free to contact his practice online or over the phone for further information or assistance: (860) 677-8500.
Comments Off

on Why You Should Absolutely Still Visit Your Dentist If You Wear Dentures
No Comments
No comments yet.
RSS feed for comments on this post.
Sorry, the comment form is closed at this time.