July 1, 2023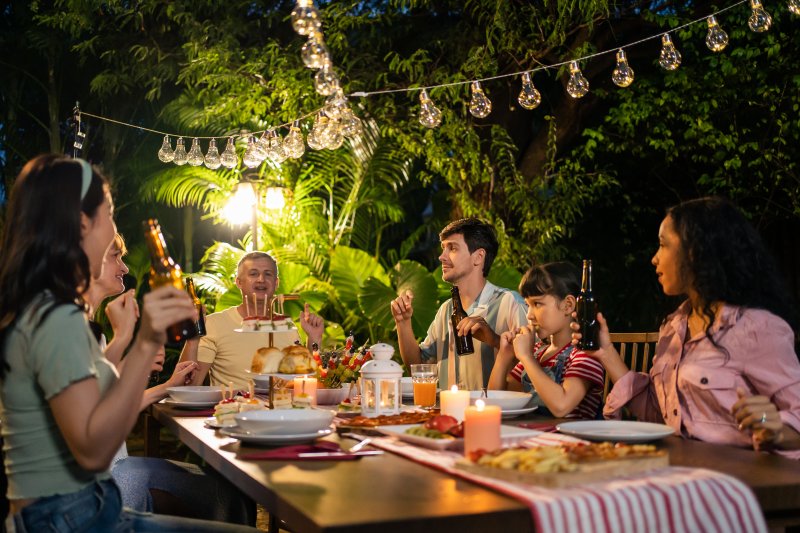 Fireworks, family and friends, and food – the perfect setup for a great Independence Day celebration! This July 4th, consider a menu of appetizers and snacks that both fill you up and protect your oral health. The last thing you want to spoil your fun is tooth trouble. To preserve your summer smile, here are 7 Independence Day treats that are good for your teeth.
#1. Charcuterie Board
The beauty of having a charcuterie board is that there's a little bit of everything for everyone. Traditionally, it's a spread of bread, cheese, preserved meat, and crackers served on a wooden board or stone slab, but you can customize it to your liking.
Cheese is full of calcium that can strengthen your teeth. Cured meats or pâtés increase saliva production, reduce acidity, and have proteins that repair and build bone! From whole grain crackers and bread to fresh fruits and veggies, there's plenty to put on your board to maintain your summer smile.
#2. Veggie Platter
Vegetables are filled with nutrients that promote oral and overall health. Crisp and colorful, fibrous vegetables can provide you that refreshing crunch and clean your teeth. Consider a platter of celery, carrots, broccoli, and cauliflower with some of your favorite dipping sauces!
#3. Fruit Salad
Fresh fruit and yogurt are both good for your teeth. Fruit has essential vitamins and nutrients that benefit your health. Fibrous fruits can clean and protect your teeth from bacteria and food debris! Yogurt contains lactic acid and proteins that prevent tooth decay and cavities.
#4. Meatballs
Meatballs are a heartier, more filling option for a protein that's sure to be a hit. They help build and maintain strong teeth. Since they require a lot of chewing, meatballs also increase saliva production that helps to wash away food particles and acids that cause tooth decay.
#5. Stuffed Mushrooms
Mushrooms are not only low in calories but are also a superfood full of vitamin B, vitamin D, protein, and fiber. Savory or spicy, stuffed mushrooms can be filled with any ingredients of your choosing. Stuffing vegetables with cheese is a great way to get a lot of flavor and health benefits at the same time!
#6. Trail Mix Bowl
A bowl full of trail mix is a good alternative to sweets that also gives guests something to munch on! Almonds, cashews, peanuts, and other mixed nuts have a lot of calcium, vitamin D, and phosphorous that can fight off bacteria buildup. Add whole grain pretzels and bread chips for some healthy additional crunch. Top it off with dried fruit for a soft, nutritional sweetness.
#7. Yogurt Parfaits
Yogurt parfaits are an excellent dessert option for any get-together. If you're a sweet lover, this can be a healthier option for your teeth that still fulfills your craving. Berries are filled with antioxidants that reduce plaque and prevent gum tissue damage.
Consider swapping granola for oats, which can lower blood sugar levels and provide the body with magnesium and phosphorus that can strengthen enamel and prevent tooth decay.
About the Author
Farmington Valley Dental is led by Dr. Thomas G. Peters, a distinguished dentist who earned the designation "Master" of the Academy of General Dentistry. The practice offers a wide range of dental services at your convenience. Whether you need a checkup, periodontal therapy, extractions, or more, your oral health is our top priority. If you are interested in quality dental care for your family, contact Dr. Peters through his website or by phone at (860) 677-8500.
Comments Off

on 7 Independence Day Treats That Are Good for Your Teeth
No Comments
No comments yet.
RSS feed for comments on this post.
Sorry, the comment form is closed at this time.